RBC says iPhone 3G 'Pro' won't boost iPhone momentum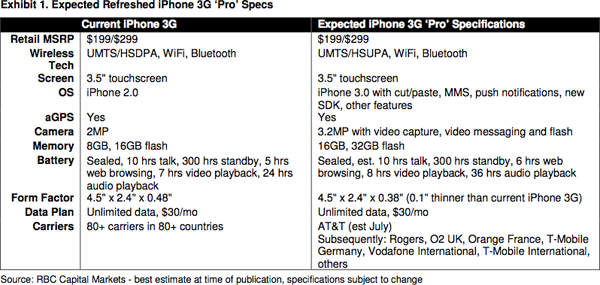 The Royal Bank of Canada is maintaining its bearish near-term outlook on shares of Apple, claiming that although consumer interest in a new version of the iPhone remains healthy, sales of the new device are unlikely to provide the company with the same boost seen during the transition from the original iPhone to the iPhone 3G.
In a report to clients Monday, analyst Mike Abramsky laid out some pretty obvious predictions for the future of Apple's smartphone business. Specifically, he believes the company "will announce an updated iPhone 3G 'Pro'" at its annual developers conference slated for June 8-12, with a release to follow in July.
Among his feature predictions for the new model is a new 3.2 megapixel camera, better battery life for video playback, "a faster 3G chipset (HSUPA vs current HSDPA), improved graphics processor, video recording, more memory (16GB/32GB)" and an enclosure that's one-tenth of a millimeter thinner than the one employed by the iPhone 3G.
A proprietary survey by RBC's ChangeWave market research division conducted this month found "healthy pent-up demand" for a new iPhone, with 20% of the 4,300 respondents saying they'd consider buying a 16GB iPhone 3G 'Pro' (11%) priced at $199 or 32GB iPhone 3G Pro (9%) priced at $299. Another 8 % expressed interest in the current iPhone 3G if it were to be priced at $99.
However, Abramsky told clients the update won't be enough to boost the iPhone's momentum above current levels and is only likely to sustain the touchscreen handset's current market traction. In support of this theory, he cited about a half dozen reasons, namely that the expected jump in internet download speeds is unlikely to be as dramatic as last year's switch from EDGE to 3G.
Although Apple has reportedly been discussing options that would make the next iPhone more affordable (1, 2) for customers during the global recession, Abramsky isn't holding high hopes for these changes either. Instead, he believes pricing will remain relatively the same, which is yet another reason he doesn't expect new models to spark a noticeable increase in consumer demand.
"The prior 3G product cycle coincided with the move to subsidized iPhone pricing (from prior $399/$499), boosting buying intentions est. 50-100%," he wrote.
Among the other factors cited by the analyst as weighing against a surge in momentum are the availability of pre-paid iPhones, pending launches from iPhone rivals, a slowdown in consumer spending, and a lack of new international territories for iPhone expansion.
That said, one international expansion prospect with "big" potential is China, Abramsky told clients. Assuming Apple finalizes a deal with the nation's second-largest wireless provider China Unicom, he believes the company could sell upwards of 1.5 million additional iPhones during the 2009 calendar year.
Abramsky also used his note Monday to quell rumors of an entry-level iPhone that he helped fuel just one month ago.
"Build data and other checks suggest Apple may not launch a lower priced iPhone as soon as generally thought," he wrote. "If so, his would help protect iPhone margins (est 55% at $400 subsidy), but might leave Apple vulnerable to share gains from pending lower-priced competitive alternatives."
The RBC analyst maintained his Underperform rating and bleak $70 price target on shares of Apple.