iPod shuffle sales surge 50% as iPod touch maintains top slot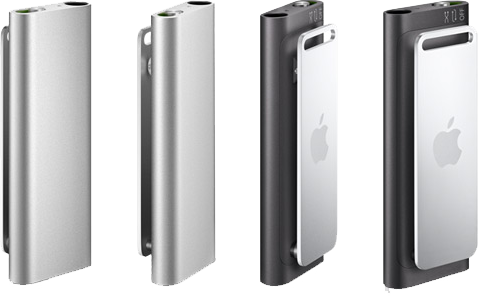 Sales of Apple's most affordable iPod shot up more than 50 percent a week after the company unveiled new, more compact models that shift the push controls from the player itself to the included pair of earphones.
Barclay's analyst Ben Reitzes relayed via a report earlier this week data from market research firm NPD showing that sales of iPod shuffles grew 51 percent the week of March 21st, the first full week the third-generation players were on the market. Sales continued to gain momentum the following week, rising another 10 percent.
However, a snapshot of Apple's overall iPod business during these same time periods isn't so rosy. Combined, sales of all iPod models fell a staggering 38 percent on a year-over-year basis during the week of the 21st, following a 21 percent decline the week prior.
The good news for Apple is that these declines were fairly inline with broader trends in the digital media player sector, which saw sales slip 37 percent and 21 percent, respectively, for those same two weeks. Also noteworthy is that the week of the 21st is somewhat of a tough compare given that Easter Sunday fell on the 23rd last year.
On the downside, Reitzes reports that the recent fall-off in sales suggests iPod shipments for the first calendar quarter of the year could be down some 14 percent year-over-year. This is inline with general market trends, but much worse than the analyst's previous estimate of a 2 percent yearly decline.
That said, Retizes notes that while NPD data factors in sales at Apple retail stores, it doesn't include sales from the company's online store or any iPod distribution points outside the United States.
"We continue to believe that International sales growth is stronger than the US for iPods," he wrote.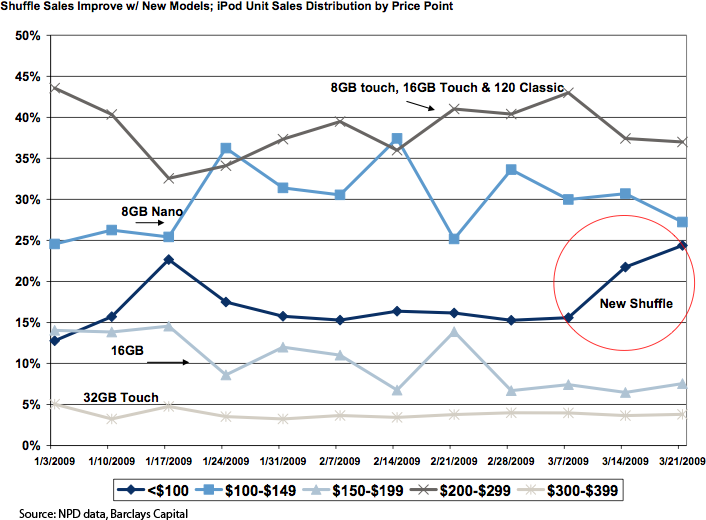 The analyst also include the above iPod unit sales distribution chart, which provides a visual breakdown of Apple's weekly iPod sales mix by model and price point. The 8GB and 16GB iPod touch, along with the 120GB iPod Classic, are by far the company's best selling players by volume since the start of the year. The 32GB iPod touch and 16GB iPod nano trail the pack by a considerable margin.