Next-gen iPod touch, iPhone to support low-power 802.11n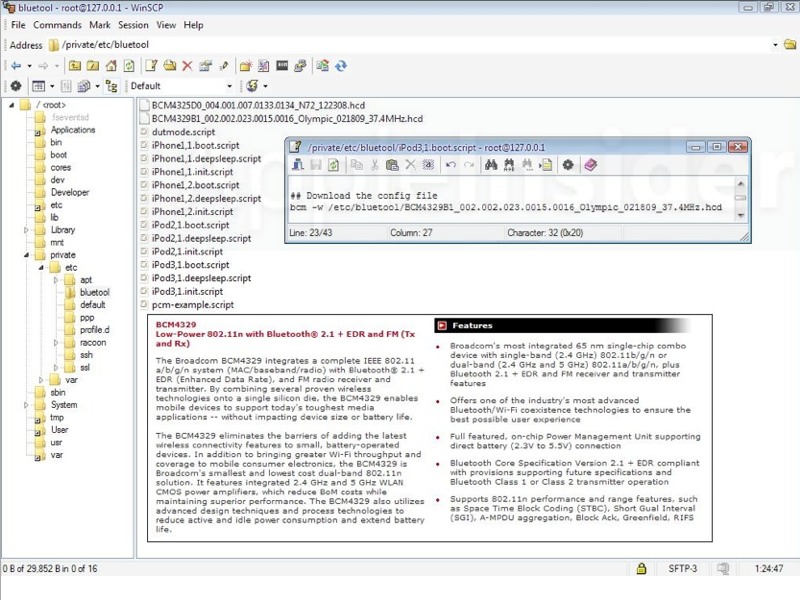 Wireless radio component specifications contained within beta distributions of iPhone 3.0 firmware reveal support for a new chip enabling low power 802.11n that's bound for Apple's third-generation iPod touch. It's therefore also likely to be included with new iPhone models.
The version of the existing Broadcom chip that supplies WiFi and Bluetooth on existing models jumps from BCM4325 to BCM4329, according to resource files reserved for a third-generation iPod touch. The component upgrade adds new support for 802.11n features, including the ability to find and join 5GHz networks.
Existing iPhone and iPod touch models only support 5GHz 802.11a networks, or 2.4GHz 802.11b/g networks, forcing users who want the top speed of 802.11n (available on all MacBooks) but compatibility with 802.11b/g networks (to use the existing iPhone) to set up a 2.4GHz compatible network. That compromise forces the wireless network to deal with interference from other networks on the often crowded 2.4GHz band.
Apple's latest generation of AirPort base stations added new hardware support for dual-band networks, allowing both fast and slow devices to connect to independent 5GHz and 2.4GHz signals at the same time. However, this isn't possible with previous AirPort base station hardware, or when setting up an ad-hoc WiFi network from a notebook, for example.
New support for 802.11n in the upcoming iPhone and iPod touch models would also provide the devices with additional network speed and reception range features of the significantly faster 802.11n specification, which are related to channel bonding (using two channels at once to double the top reception speed) and MIMO, the ability to use multiple transmit and receive antennas to improve reception speed and range.
Other features related to 802.11n include Space Time Block Coding (STBC), which sends the same data across multiple antennas for redundancy against radio interference; Short Guard Interval (SGI), which increases the data rate by squeezing out shorter padding intervals; A-MPDU, the aggregation of multiple MAC-level service data units; Block Ack, which increases efficiency by transmitting multiple data frames followed by only one acknowledgement frame in a transmission block; Greenfield mode, the increased efficiency gained by dropping 802.11a/b/g backward compatibility; and RIFS, reduced interframe spacing, which minimizes unused radio dead time by cutting the interval time between sent packets.
The new device also focuses on efficient power management, with a special integrated PMU (power management unit) and a shared Bluetooth and WiFi receive signal path, which "eliminates the need for an external power splitter while maintaining excellent sensitivity for both Bluetooth and WLAN."
The new component should dramatically speed up WiFi throughput and flexibility as AT&T and other UMTS mobile providers also upgrade their 3G networks to take advantage of parallel improvements in mobile 3G speed capacity expected in the new iPhone.