Apple's still working on iChat video answering machine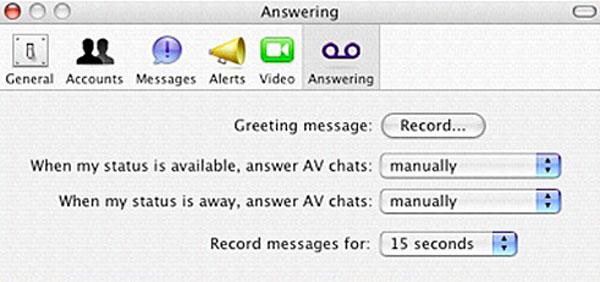 AppleInsider may earn an affiliate commission on purchases made through links on our site.
Apple's implementation of a digital video answering machine, once destined for inclusion in an earlier version of Mac OS X, has been resurrected in a patent filing, suggesting the company may give the concept a second go in the near future.
The feature would allow users of the Cupertino-based company's iChat messaging application to pre-record audio and video messages that would be provided to other users — or "callers" — when the recipient is away from their computer or tied up with other tasks.
This concept isn't entirely new, however. It first surfaced in pre-release builds of Mac OS X 10.5 Leopard back in December of 2006 — nearly a year before the operating system was released to the public with all traces of the feature removed.
In those pre-release builds, an "Answering" tab had been added to iChat's preference pane that allowed users to configure their digital answering machine. It provided an interface for recording video answering machine messages with built-in iSight cameras and instructing the chat application when to transmit the message to incoming callers.
For example, iChat could automatically respond to incoming callers with the pre-recorded video message when a user had their status set to "Away," or could choose to issue the video message manually when the status was set to "Available."
In a 13-page patent filing published this week, Apple provided a detailed explanation of the technology with some new additions. In addition the aforementioned status preferences, the video message could be provided in response to a video chat request after a period of time had elapsed since receiving the video chat request, the company said.
Alternatively, the video message could be sent when no user input has been received for a period of time exceeding a threshold, meaning the recipient is likely away from their computer. Similarly, the message could be provided when the value of iChat's status indicator indicates a "do-not-disturb" status.
"Thus, the video chat system can be used as an always-on service without unnecessarily interrupting the user while the user is engaged in another chat session or another task," Apple explained. "The audio-video messaging services are provided using an answering machine-type application that is familiar to most users who have used conventional telephone answering machines."
Video Answering Machine Server
Taking the concept a bit further, Apple said video answering machine messages could be uploaded to a video chat server via the Internet. This would allow the video chat server to respond to any incoming chat requests with the video message even when the recipient isn't logged into their iChat account.
Callers could then respond to the pre-recorded video answering machine message with their own video message:
The responsive video message, in some implementations, can be stored in a video mailbox within the video chat server attached to the network connection. In this example, when the call recipient next connects to the network connection and activates the video chat component, some or all of the contents of the video mailbox can be downloaded or otherwise be made available to the computer for viewing by the call recipient.
Video answering machine messages could also be accessible by means other than or in addition to the video chat component, Apple added. For example, a call recipient could access video answering machine messages stored in a video mailbox within the video chat server through a web site or via a mobile phone application running on an iPhone.