Latest iPhone 3.0 multi-model and component supplier rumors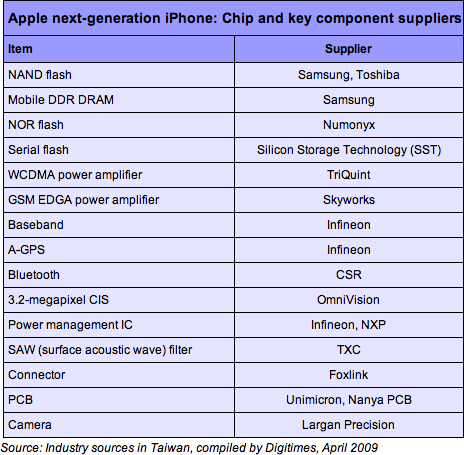 AppleInsider is supported by its audience and may earn commission as an Amazon Associate and affiliate partner on qualifying purchases. These affiliate partnerships do not influence our editorial content.
Over the past 48 hours, a couple of new reports have come out of the Far East claiming to identify up to three new models of Apple's iPhone due this year and a list of component suppliers who'll play an integral role.
While discoveries within betas of iPhone Software 3.0 have hinted that two new models are in the cards for a release around mid-year, a report published by the Chinese-laguage China Times on Monday claims Apple has placed orders for 4 million new iPhones that may span not two but three different models.
The order, which is reportedly due in Apple's hands by the end of June, would include an EDGE-only model, a new 3G model, and a model specifically tailored for the Chinese market, according to the repot. It added that an "iPhone nano" is not expected and that the new iPhone 3G would look similar to the current model.
Component supplier rumors
Separately, Taiwanese rumor site DigiTimes on Tuesday published a list of what it believes will be some — but obviously not all — of the component suppliers that will be delivering parts to Apple to facilitate the launch of the next-generation iPhones.
In particular, it suggests Infineon will retain its seat as the handsets' GPS chip supplier while also reinforcing rumors that OmniVision will supply Apple with 3.2-megapixel CMOS image sensors, boosting the iPhone's embedded camera beyond 2-megapixels for the first time.
Other noteworthy design wins reportedly include TriQuint (WCDMA power amplifier), Skyworks (GSM EDGA power amplifier), Infineon (Baseband), CSR (Bluetooth), Infineon and NXP (Power management IC), TXC (SAW (surface acoustic wave) filter), Unimicron and Nanya (logic board), and Largan Precision (camera module).
DigiTimes adds that Apple's assembly suppliers will begin shipping new models to Apple in May, "with the first batch estimated to be around five million units."
The accuracy of both reports are unknown.
In an effort to help readers keep tabs on the wide range of iPhone 3.0 hardware rumors, we've begun archiving all such reports on an iPhone Hardware 3.0 (RSS) topics page. Meanwhile, iPhone 3.0 software related information can be found on the iPhone Software 3.0 (RSS) topics page. Of course, all iPhone-related information — hardware or software — will continue to show up on the parent iPhone (RSS) category page.