Briefly: iPhone Software 3.0 taking better camera snapshots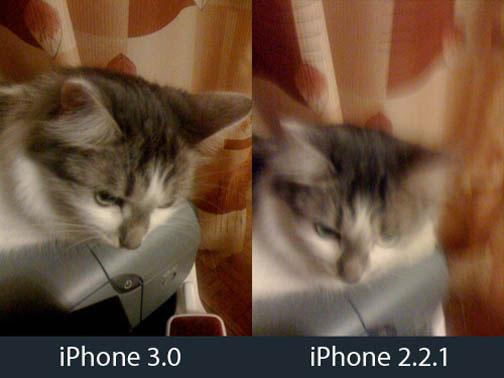 Beta versions of Apple's iPhone 3.0 software are consistently producing clearer, more detailed photos when running on the same iPhone 3G hardware as the latest public release of the software, new tests show.
The folks over at iPhones.ru ran a series of tests 30 times over in which they compared photos of the same objects or scenes taken on an iPhone 3G running iPhone Software 2.2.1 with another running a beta of iPhone Software 3.0.
They claim that in most cases, the iPhone running 3.0 produced photos with noticeably better quality and clarity than the iPhone running 2.2.1. A pair of comparison photos exemplifying their findings can be seen below.
Intrigued, Gizmodo followed up with a brief test of its own in a dark lighting scenario — one of the iPhone camera's weak spots — and similarly found the iPhone running 3.0 to have produced a much clearer snapshot with better detail in dark areas of the scene (seen, below, in the second pair of photos).
There's therefore some speculation that Apple may be making tweaks to the iPhone's Camera software that make it better at exposing bright light sources while reducing overexposure of photos taken in low lighting scenarios.
A handful of third-party iPhone apps have long attempted to address the iPhone's propensity to produce poor photos in dark lighting, like Night Camera, which leverages the handset's accelerometer to snap a photo the instant it feels the iPhone is most stable in the user's hand.
If Apple is indeed making improvements to the iPhone's camera app, those changes should benefit users of both the original iPhone and iPhone 3G, both of which sport a 2.0 megapixel digital camera.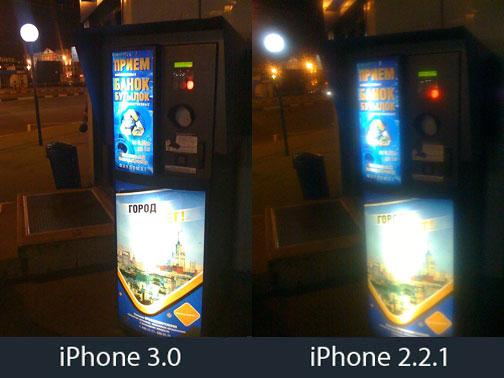 The company's next-generation iPhone hardware has been rumored to include a 3.2 megapixel camera. AppleInsider was also first to report in March that this new camera will be capable of taking video.
iPhone Software 3.0 is due out sometime this summer.