AT&T releases free iPhone app for managing wireless accounts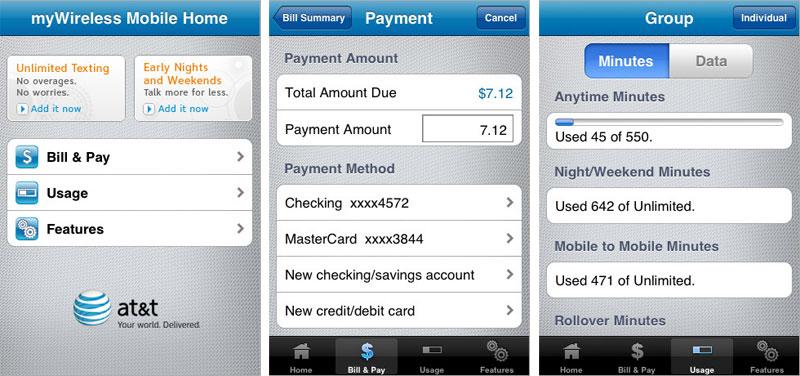 AT&T this week introduced a free iPhone app that lets customers manage their family and individual wireless accounts directly from their iPhone.
The exclusive U.S. iPhone service provider said the application, dubbed myWireless Mobile (free, App Store), is intended to supplement its popular web-based myWireless portal that's used by millions of subscribers looking to review their monthly statements, usage statistics and make changes to their plans.
Among the application's core features is a "Bill and Pay" function that lets customers review their monthly bill in full and make one-touch payments, as well as a "Voice and Data Usage" option for keeping track of voice minutes, text messages and data usage.
The password-authenticated application can also be used to browse, change and easily add features to a wireless account, as well as update payment information and download monthly bills in PDF format.
"Our new AT&T myWireless Mobile app gives iPhone customers more freedom to manage, customize and update their wireless voice and data needs whenever and wherever," said David Huntley, senior vice president, eCommerce & Sales Centers, AT&T Mobility and Consumer Markets.
The application will prominently display current balance and due dates, as well as last payment information. Customers can make full or partial payments through the app and select payment methods such as previously used checking accounts and credit cards. New payment preferences can also be added through the app.
For parents managing several AT&T accounts through a family plan, the myWireless Mobile app will display voice and data usage across all accounts and break voice minutes down to Anytime, Night & Weekend, Mobile to Mobile and Rollover usage.
Customers wishing to download the myWireless Mobile app must already have an existing myWireless service account, which can set up through AT&T's website. The same username and password for that account will provide account access through the iPhone app.