Apple, AT&T sued over ties to Shazam music ID service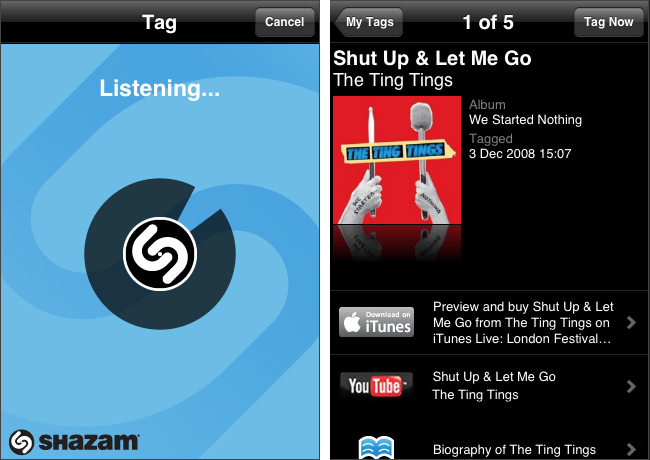 Apple, AT&T and several others have been named in a new patent infringement lawsuit, presumably for their connection to Shazam, a maker of music identification software distributed under the same name for the iPhone and several other mobile devices.
The 8-page complaint, filed Tuesday by Tune Hunter, Inc. in the patent litigation-friendly Marshall Division of Texas, broadly alleges that nearly a dozen tech companies are contributing to infringement of is US patent No. 6,941,275 for a "Music identification system" granted in September of 2005.
When it originally lodged its patent application with the USPTO nine years ago, the little-known firm described its invention as relating "to a music identification/purchasing system, specifically to a method for marking the time and the name of the radio station in portable device such as a key holder, watch, cellular phone, beeper or the like which will allow the user to learn via internet or regular telephone the name of the song, artist and/or music company by matching the stored data with broadcast archive."
The concept is strikingly similar to technology delivered by Shazam's popular namesake application for the iPhone, BlackBerry and G1 handsets, which helps users identify songs playing in their surroundings by capturing a sample of the track, analyzing it, and then comparing it with a remote database based on its acoustic footprint. If a song is correctly identified, users are presented with links to iTunes and Amazon — another named defendant — which they can use to immediately purchase the song.
In its complaint, Tune Hunter doesn't specify its gripes with each individual defendant. Instead, it charges them broadly with contributing to the infringement or inducing the infringement of its patent "by making, using, selling and/or offering to sell, and/or causing others to use [...] music identification systems and/or devices that are covered by one or more claims" of its patent.
The company, which is seeking that each defendant pay damages, attorneys' fees, and be enjoined from further infringement, claims to have notified "at least one or more" of those defendants about its patent, but says those parties took no action and continued their "willful and deliberate" infringement.
Shazam is available as a free music identification app for the iPhone.
Among the other defendants named in the suit are Samsung, Napster, Motorola, Gracenote, LG Electronics, Pantech Wireless, and Cellco Partnership (doing business as Verizon Wireless).