32GB iPhone listed as AT&T trade-in; Rogers in launch prep?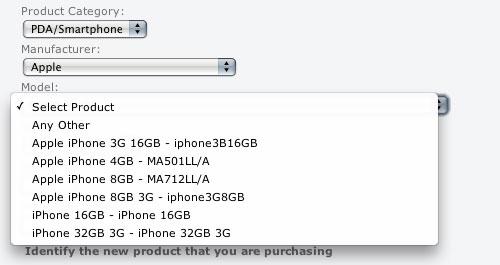 AppleInsider may earn an affiliate commission on purchases made through links on our site.
An AT&T upgrade program for BlackBerries has listed a 32GB iPhone as a trade-in option. Simultaneously, Canadian cellular provider Rogers may be preparing for another summer iPhone release.
Apple's attempts to keep its iPhone plans silent may have become that much harder on Friday through a potential discovery of the larger-capacity iPhone in AT&T's system.
A BlackBerry Bold trade-up program run on behalf of AT&T, albeit by a third party, shows an "iPhone 32GB 3G" as one of the phones that can be handed in to get cash towards the Research in Motion smartphone. As Phone Arena notes, the handset is listed as worth $335, though it's unlikely this is connected to any final pricing.
At this point, it's uncertain whether this is a genuine addition or a speculative move on the part of the company running the service. None of the other iPhones in the list are unreleased models. However, it does follow an accidental post of a similar sort by T-Mobile Austria, which briefly showed a 32GB iPhone in its "coming soon" section only to pull it shortly afterwards.
The 32GB iPhone listed as a trade-in choice for moving to an AT&T BlackBerry Bold.
Whatever AT&T's state of readiness, its northern neighbor Rogers is now believed to be signaling its own readiness to carry a third-generation iPhone. A historical source of Boy Genius Report for information at the Canadian provider has provided early iPhone launch details that have it essentially repeating its approach to the iPhone 3G's debut last year.
Rogers doesn't say for certain when the next iPhone launches but, according to the tipster, expects it sometime in July or August. It will reportedly require once more that all iPhones be bought tied to three-year plans and that the initial wave of shoppers only buy one device each.
Unlike last year, though, the carrier is supposedly now anticipating a larger supply from Apple that will prevent the rationing and premature sellouts that defined the iPhone 3G launch in 2008.