Apple launches new One to One personal training service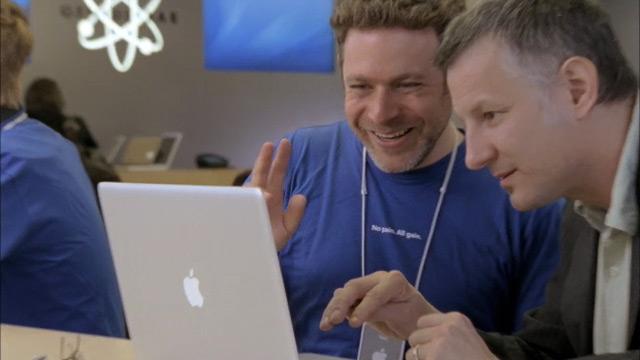 Apple on Tuesday detailed changes to its unparalleled retail-based personal training service designed to help customers get set up, get trained, and get going with new Macs purchased from the company's direct sales channels.
Priced at $99, the new year-long One to One membership is available at the time of purchase to those customers who buy their new Mac in an Apple retail store, from the Apple online store, or through Apple Telesales. Apple says the "time of purchase" may extend from the day of a purchase until the end of its 14-day return period.
One to One is broken down into four distinct services, the first of which is called Personal Setup, entitling members to the configuration of one new Mac during the duration of their membership. This includes the data transfer of files from an old computer (PC or Mac) to a new Mac, granted the old computer is able to start up properly, has a working Ethernet, USB 2.0, or FireWire port, and runs Windows XP or later or Mac OS X 10.2 or later.
Upon request, Apple retail staffers will install any Apple hardware and software that was purchased in conjunction the Mac. They'll also transfer and integrate email, contacts, calendars, music, photos, bookmarks, and documents from the customer's personal user account, but not the accounts of others that might be stored on the old computer.
Once a customer is up and running on their new Mac, they'll be able to pick and choose from three distinct training sessions throughout the course of their membership: Personal Training Sessions, Personal Projects, and One to One Workshops. Customers can participate in these sessions using their new Mac or a Mac in their local Apple retail store if they choose not to bring their own.
Personal Training sessions are individual sessions between the One to One member and an Apple employee, while Personal Projects sessions occur in a group environment, with a trainer available to provide assistance and answer questions as each member works on an individual project. One to One Workshops also occur in a group environment, with each member focused on the same topic, as education or information is provided to the entire group on specific applications or technology.
Reservations for Personal Training, Personal Projects, and One to One Workshops are subject to availability on a first-come, first-served basis. Members can book their reservations up to 14 days in advance using the Apple Store online Concierge scheduling system.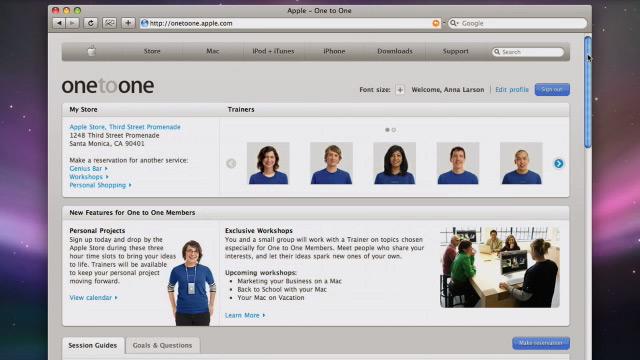 Apple says that members can choose to book an upcoming reservation for either one Personal Training or one Personal Projects session at a time, but may immediately schedule their next sessions after the completion of the preceding session. In addition, members are allowed one upcoming reservation for One to One Workshops at any given time even if they also have an existing reservation for a Personal Training or Personal Projects session.
Personal Training and Personal Projects sessions cover all of Apple's consumer applications but Personal Training sessions for certain Apple pro applications may also be available in select Apple retail stores.
After purchasing a subscription to One to One, customers can activate their membership through this online form. Apple has also posted a guided video tour of the new program and a list of available sessions that include everything from movie making and website design to iPhone and iPod training.
Members who purchased One to One prior to June 2, 2009, under prior One to One terms and conditions, are permitted to renew their One to One membership, one time, within 30 days of expiration of their current membership. New members may renew their One to One membership twice, for a total maximum membership period of three years. Each time a member renews, they'll be entitled to the setup of another new Mac.