iPhone OS 3.0 app highlights: TomTom GPS, Line 6, more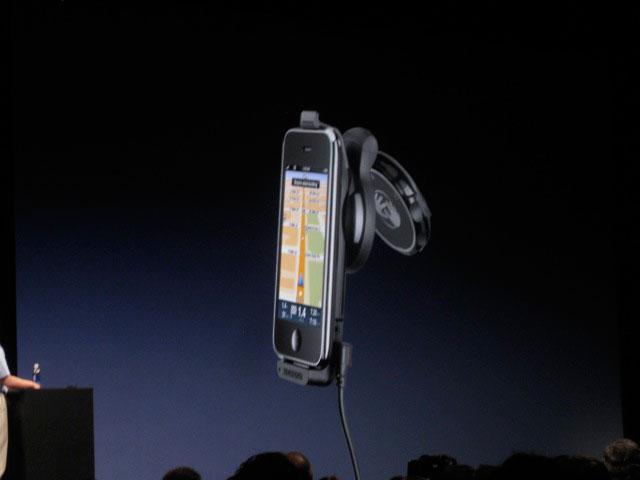 AppleInsider may earn an affiliate commission on purchases made through links on our site.
As in March, Apple at WWDC showcased a swath of new apps that take advantage of everything iPhone OS 3.0 can do. AppleInsider has some of the highlights, including the first-ever true, turn-by-turn GPS app for the iPhone.
TomTom: iPhone GPS app and car accessory kit
The company's Peter-Frans Pauwels announced that his firm would have new navigation software this summer that takes advantage of iPhone OS 3.0's support for true, turn-by-turn directions; the app will have both nation-specific and international maps from TomTom itself, work in either landscape or portrait modes, and voice out directions.
An accessory kit will also showcase 3.0's support for more than just basic accessories. It will act as a basic suction-cup mount for the dashboard or windshield but, additionally, will amplify the GPS signal, support both hands-free calling and music through the stereo system, and charge the iPhone from the car's 12-volt port.
AirStrip Technologies: AirStrip CC
While support for medical accessories is nothing new, AirStrip is promising something much more with its AirStrip CC (Critical Care) app.
Dr. Cameron Powell's demonstration showed that the app can take live sensor data and feed it to the iPhone over the Internet in real-time, giving them access to data even when they're not at the hospital. The touchscreen lets doctors measure out critical statistics, like the distance between unusual heartbeats, by tapping two points.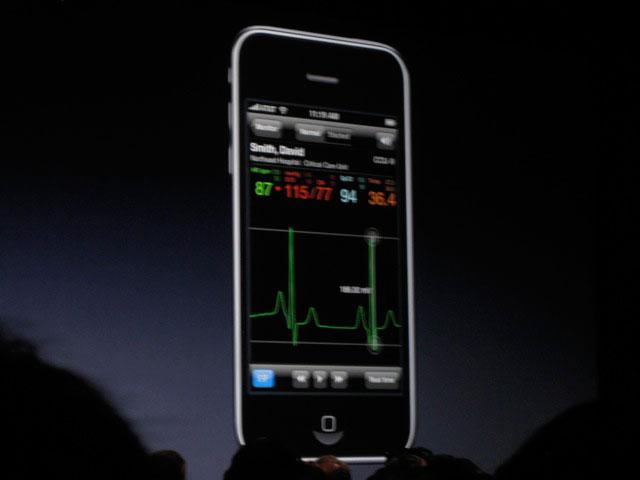 The background push notification system in iPhone OS 3.0 means that health care experts of any kind also don't have to keep checking the app in case of an emergency or an unusual lab test; if data exceeds certain conditions, the app can flash an alert even when it's closed.
Line 6/Planet Waves' guitar and amp controls
Appealing to musicians, Line 6/Planet Waves has developed an app that will allow an iPhone to modify the output of a guitar or its amplifier through an accessory. Over 80 real and virtual amp styles can be simulated, and the new app can (much like GarageBand) alter the type of guitar heard; an electric 6-string guitar can be tweaked to produce a 12-string acoustic sound, for example.
Tilting the iPhone on its side switches to a view of knobs that can fine-tune the characteristics of the sound, including its stage presence.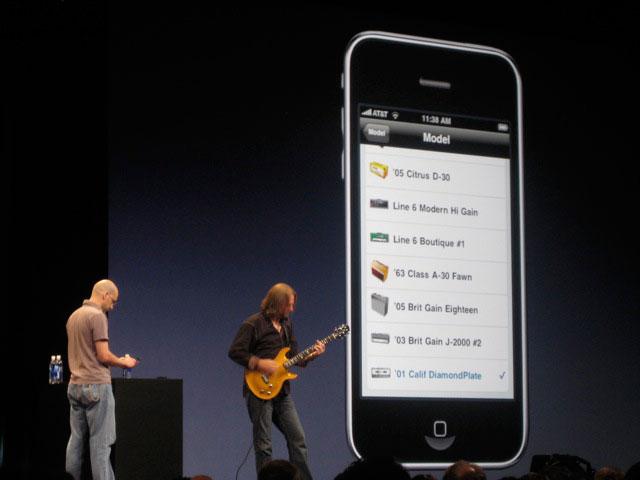 Notably, the company's presenters encountered problems getting the accessory and software to work perfectly together and thus suggested that they may be some time away from being completely ready.
Particularly relevant for those in major cities like Chicago, San Francisco and others where Zipcar is prevalent, the company's self-titled app was Apple's centerpiece example for the ability to embed the Google Maps framework in a third-party app.
In his run-through, Luke Schneider of Zipcar showed the app locating every available Zipcar on a Google map, either nearby the owner (using GPS) or manually specified areas. They can then see which cars are available in a given area, down to the specific model and cost, and reserve those cars directly from the phone.
Importantly, iPhone owners won't even have to worry as much about keys or remembering which car is theirs. Thanks to the app, customers can unlock their cars remotely or honk the car's horn to identify it if more than one is nearby.