Apple stuns WWDC crowd with pulsating App Store hyperwall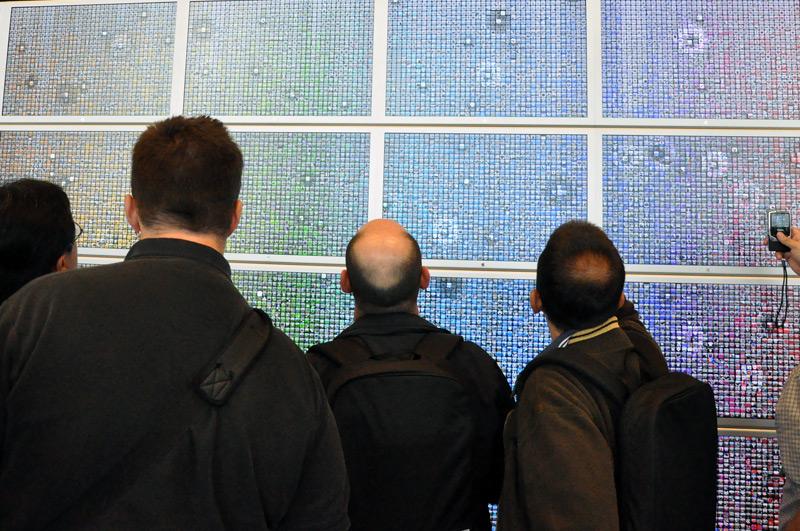 In a rare treat for developers at this year's WWDC, Apple is showcasing 20,000 of the most popular iPhone apps on a massive hyperwall built out of Cinema Displays — one that pulses in sync with each and every App Store download.
The array, mounted on a wall inside San Francisco's Moscone Center West, is made up of twenty edge-to-edge 30-inch Apple Cinema Displays, each of which are powered by a Mac Pro running Mac OS X 10.6 Snow Leopard. One eyewitness says the systems are pooled together in one large, monolithic black box.
Quartz Composer is employed to render the icons rapidly and to automate their behavior. All of the icons are sorted by color and, importantly, aren't there just for show. While not quite a by-the-second recreation of what's happening at the App Store — as the results are delayed by five minutes — the "live" mural has each iPhone app's icon pulse light outwards in a ripple whenever someone downloads that app.
While certain apps tend to pulse more often than others due to popularity, the effect produces an animated digital landscape that draws the attention of nearly everyone in its path.
Apple's intention with the grid is not just to show the popularity among developers of the App Store — which has swelled to over 50,000 apps in total — but to illustrate that many of the apps they publish are frequently downloaded. The company reminds WWDC attendees that 3,000 apps are downloaded every minute, guaranteeing that the influx of developers descending on San Francisco this week are very much in demand.