Three turn-by-turn GPS solution providers plan iPhone offerings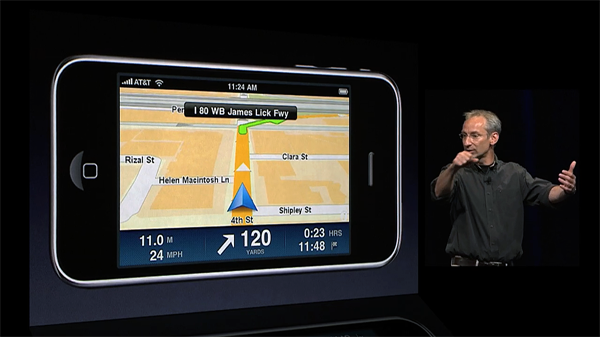 AppleInsider may earn an affiliate commission on purchases made through links on our site.
A trio of turn-by-turn GPS navigation system makers said this week they plan to introduce solutions for the iPhone later this year, but Olathe-based Garmin isn't among them, choosing instead to take on the iPhone head-on with its own hybrid cellphone/navigator solution.
"At this time, we have no plans to offer an iPhone application given our strategic smartphone relationship with ASUS to produce the Garmin-Asus nüvifone," Garmin spokesperson Jessica Myers told AppleInsider earlier this week.
Introduced as a prototype in January of 2008, the Nüvifone is a 3G-enabled touchscreen-based mobile phone that will morph into a turn-by-turn GPS navigator with hands-free calling once snapped into a vehicle mount.
Although Garmin and its partner Asus had initially anticipated availability of the Nüvifone for last fall, plans for the device, which will also sport a build-in camera, appear to have been delayed till the third quarter of this year at the earliest.
Garmin's move to take on the iPhone with a similar device essentially opened the door for its primary competitor TomTom to embark on an exclusive working relationship with Apple to deliver the first dedicated in-car navigation solution for iPhone: a TomTom navigation app combined with a car kit designed specifically for the iPhone.
Apple is focusing on development of the app itself, which will include IQ Routes and latest maps from Tele Atlas when its made available on the App Store following the release of iPhone Software 3.0 a bit later this month.
For its part, TomTom is putting the finishing touches on the car kit accessory, which enhances the iPhone's GPS signal through its dock connector thanks to third-party accessory support built into the iPhone SDK 3.0. The kit also charges the iPhone, includes a built-in loud speaker for spoken turn-by-turn directions, and comes equipped with a microphone for hands-free calling.
While previewing the solution at WWDC on Monday, TomTom's co-founder and CTO Peter-Frans Pauwels said the kit will include a built-in FM transmitter for playing your iPhone's music library over your car stereo as well.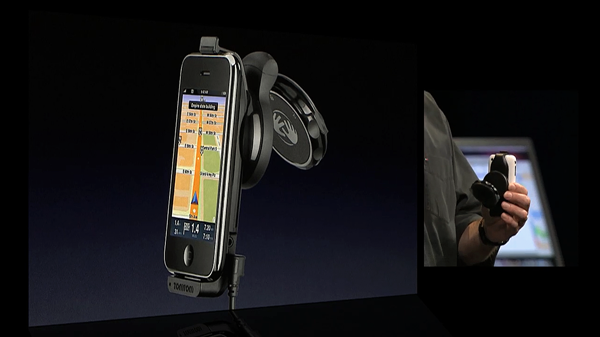 TomTom says details regarding pricing and availability for both the application and the TomTom car kit for iPhone will be made available in advance of the products' launch later this summer. In the meantime, the company has published the following teaser video to YouTube showing the navigation software interface and its car mount kit.
Jumping on the heels of TomTom's announcement was German GPS device maker Navigon, which said Tuesday that iPhone users will be able to "kit out their smartphones" with its own navigation software from App Stores across the globe later this month.
"With the new OS 3.0 operating system, Apple has made the use of navigation software on the iPhone possible, and NAVIGON has quickly managed to adapt the MobileNavigator software to the new firmware," said Navigon chief executive Egon Minar. "The iPhone can now be transformed into a versatile, fully functional navigator."
The software will reportedly include functions such as Reality View Pro, Real Roadsign Pro, Lane Assistant Pro, Speed Assistant, Day & Night Mode, amongst others, as well as the option of displaying points of interest (POIs) along the route.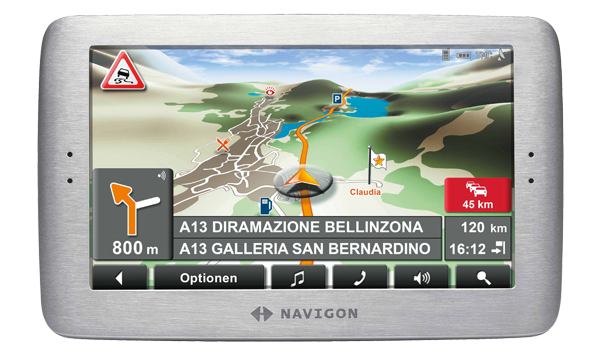 "If you turn the iPhone 90 degrees, then the display switches automatically from portrait to landscape view," Minar added. "As well as this automatic display adjustment, and the intelligent address entry, there is also the option of navigating directly to an address from saved contacts. If navigation is interrupted by a telephone call then navigation is resumed automatically after the call has ended."
While pricing for Navigon's solution is similarly undetermined, Minar noted that his company plans to also release a LITE version for free, with no active route guidance, but with map material and the possibility to display POIs in the vicinity.
Also expected to join the pack of turn-by-turn GPS solution providers for the iPhone is Sunnyvale, Calif.-based TeleNav. AppleInsider believes the company has been mapping out its own software solution for the iPhone for roughly a year now. TeleNav currently partners with several wireless providers including AT&T, who markets the software on several of its handsets under the "AT&T Navigator" brand with monthly subscription fees fetching approximately $10. TeleNav may be planning a similar partnership with AT&T for its iPhone solution.
Asked for an update on the matter Tuesday, TeleNav spokesperson MaryBeth Lowell pointed to this blog post or hers and said she "unfortunately can't share anything" further at this time.

"[I]t's really great to see that there is such demand for our service and we feel humbled by the onslaught of requests. We appreciate all of your ongoing support," she wrote. "We don't have an official announcement today regarding the iPhone but will soon. So we ask that you keep following our news here or on Twitter as we will keep you updated on iPhone news that way."