MobileMe pushes out new Find My iPhone, Remote Wipe service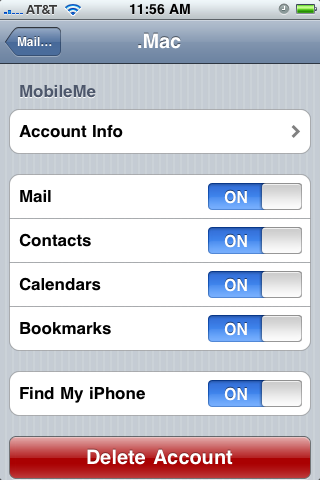 Announced at WWDC, Apple's new Find My iPhone and Remote Wipe services went online today with the warning that high traffic to the site might slow or prevent access for users trying it out on launch day. The site appears to be up intermittently and yet not actually functional yet.
Accessible to MobileMe subscribers under the Account icon, and therefore within the portion of MobileMe that is SSL encrypted, the Find My iPhone and Remote Wipe page was intermittently unavailable to some users today, who temporarily received the notice "MobileMe Account is currently unavailable. We apologize for this service interruption and are working hard to resolve the problem."
Subsequent attempts to access the new site were successful by late morning however.
Last year, Apple rolled out an ambitious suite of web apps and push messaging features while rechristening its .Mac service as MobileMe in conjunction with the iPhone 2.0 launch. The result was a black eye for the new service, as users experienced delays and problems significant enough for Apple CEO Steve Jobs to offer apologies and free subscription extensions for members.
Since then, the MobileMe service has steadily improved, still lacking in some areas such as SSL encryption for all messaging features, but in many respects leading the industry in cloud services and push messaging. Apple is the only company with a significant paid subscriber base among consumers, with Microsoft and others struggling to float free-for-now services that offer much less.
This year, the standout features added to MobileMe have the potential to dramatically boost the reputation of the service and polish the iPhone with further differentiation, as long as the company can roll them out without the outages and problems of the previous launch.
Using the new MobileMe features requires activating the service on an iPhone running the new iPhone 3.0 software. Because the service is based on Apple's standards-based XMPP/PubSub Push Notification Server, the push messages it uses work as instant messaging pings rather than SMS messages. This allows it to work on both iPhones and the iPod touch when connected to WiFi access; it uses but does not require mobile phone service.
To obtain the iPhone's location, the MobileMe site sends a push notification alert to the iPhone or iPod touch. The device then obtains its current coordinates from Location Services using GPS, cell tower, and/or WiFi base station triangulation and reports this to MobileMe, which presents the location on a map to authenticated subscribers.
After activating the Find My iPhone feature from the MobileMe push settings (shown below) buried on under Settings / Mail, Contacts, Calendars as an account configuration, a visit to the MobileMe site still maintained that the location of the phone was not available. "Your iPhone is not connected to a data network, or does not have Push enabled," the site reported confidently. The Update Location button used to send an update ping was disabled.
Display a Message or Play a Sound
A second button, Display a Message, was not disabled. That feature allows users to "write a message that will appear on your iPhone's screen. You can also play a sound on your iPhone, even if it is in silent mode."
The sheet presented to enter your message, limited to 160 characters, also offers to force the lost iPhone to play a sound for 2 minutes (below).
After sending a test message, the MobileMe site reported a notice saying, "your message was sent at 11:57 AM on June 17, 2009. A confirmation email will be sent to you when the message has been displayed on the device." A half an hour later, the configured iPhone still hadn't received the message and no emails were received either.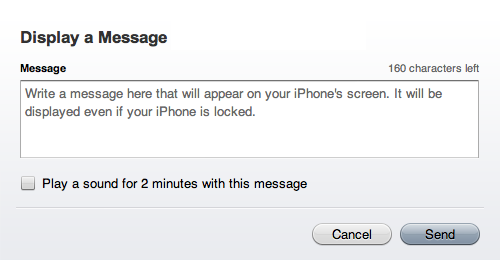 The iPhone had just been updated to the new 3.0 software, and still wasn't receiving the usual push notifications for emails, so we tried a restart of the phone. As soon as it came back up, the phone reported "an important message" and it wasn't an SMS: it was the "Hey is this workin?" that we'd sent from MobileMe, apparently the first push notification message this phone had ever received.
When we logged back into MobileMe, the map now displayed our current location although the site reported the location current "as of 2:12 PM," approximately an hour and a half ahead of our actual location on the West Coast. This is odd because MobileMe knows our local time zone and reports other messages using the correct time, such as the time messages were sent to the phone.
We also received our notification email with the message and the time stamps of both when it had been sent and when it had been delivered to the iPhone, both of which were accurate to the local time zone. The message had taken about 40 minutes, but that's because the phone sat there needing to be reset. A second test message was received within seven minutes minutes.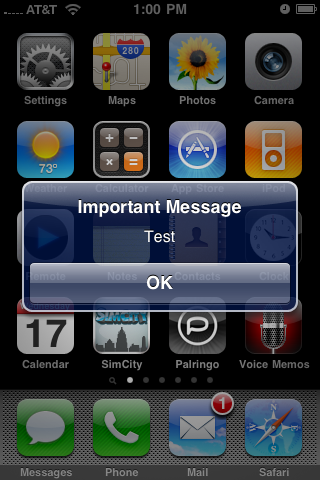 A third button, Remote Wipe, says it "will permanently delete all media and data on your iPhone, restoring it to factory settings. This will not suspend your wireless service. Once wiped, your iPhone will no longer be able to display messages or be located".
Apple's support page notes "If the iPhone or iPod touch is online (turned on and connected to a data network such as Edge, 3G, or Wi-Fi), information deletion begins within seconds, and a confirmation email that the remote wipe has begun is sent to your MobileMe email account. If the iPhone or iPod touch is offline (not turned on or not connected to a data network), the information will be deleted the next time the device is online."
The site also points out, "If you later find your iPhone or iPod touch after it has been erased, you can restore your information by connecting the device to your computer and restoring it from a previous backup using iTunes." The page also warned, "If you don't expect to later find your iPhone, you should suspend your wireless service through your wireless service provider. If you don't, you'll continue to be responsible for any phone calls or other charges incurred."