First look: Sirius XM's streaming satellite radio app for iPhone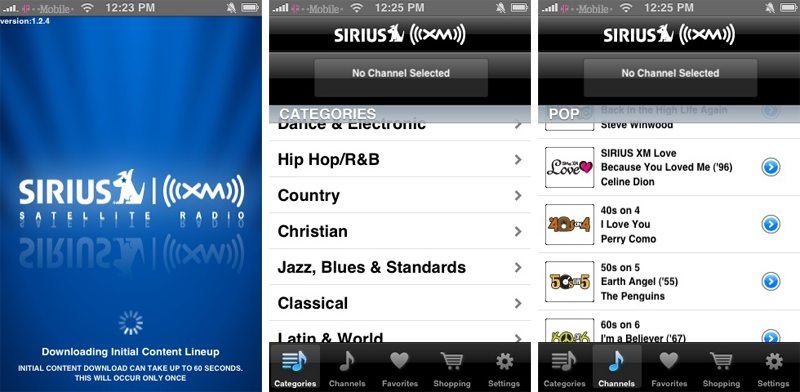 Struggling satellite radio provider Sirius XM's new iPhone app released Thursday doesn't do anything wrong. In fact, it works quite well. It's what the app doesn't do at all — namely, play some of the service's most popular content — that will likely catch the ire of subscribers.
The fine print in Sirius XM's press release says it all: "Some select programming, including MLB Play-by-Play, NFL Play-by-Play, SIRIUS NASCAR Radio, and Howard Stern, will not be available on the iPhone and iPod touch." It's a rights issue that keeps this content from being available on the iPhone.
If you're a Sirius XM subscriber, and you're OK with those losses, you already know what to expect from this application (AppStore): dozens of specialized radio stations catering to nearly every listening need you may have. There is a wide breadth of specialized, exclusive content ranging from heavy metal music to Christian talk radio, and everything in between.
Stations are separated by category, and each category has numerous options for listeners.
As far as iPhone streaming radio apps go, Sirius (conspicuously labeled version 1.2.4) ranks up with the best of them, performance-wise. On a WiFi connection, selected stations will begin streaming music within three seconds, and the quality is acceptable. Stations can be added to a favorites list for easy access, so you don't have to navigate your way through the large number of stations every time. A great feature of the application is the ability to instantly buy a song you're listening to via iTunes. Songs can also be added to a shopping cart to be purchased in bulk at a later point in time.
Even if you're not near WiFi, the service works great. On Edge, it took roughly 10 seconds for a station to begin streaming. After it started, there were no hiccups or stutters, though the sound quality did suffer a bit to accommodate for the limited bandwidth.
When browsing stations, song titles will occasionally lag behind what is actually playing on the station. You might select a channel expecting to hear the song being displayed, but the station has already moved on to the next track. Sirius XM subscribers already know that this is nothing new – those who have a receiver in their car or in a portable stereo system will encounter the same delay problem.
While the performance is excellent, content and value are an entirely subjective matter. The app itself is free, but the Sirius XM service costs $12.95 per month. Sirius announced this month they would be increasing their rate by $1.98 to offset royalty fees starting July 1. In addition, current subscribers must pay an extra $2.99 per month to use the streaming service. New subscribers, without a hardware receiver, would pay $12.95 per month for the mobile access. If you're still unsure, the Sirius XM app comes with a free 7-day trial.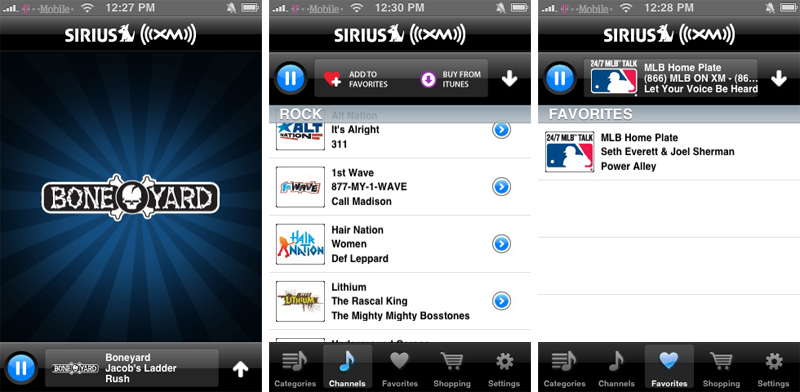 At a cost of $3 per month – or $36 a year – in addition to the regular monthly fee for current subscribers, it's hard to recommend the Sirius XM iPhone app – particularly with a number of great, free Internet radio applications available on the platform, such as Public Radio Tuner (Free, App Store) and Pandora (Free, App Store).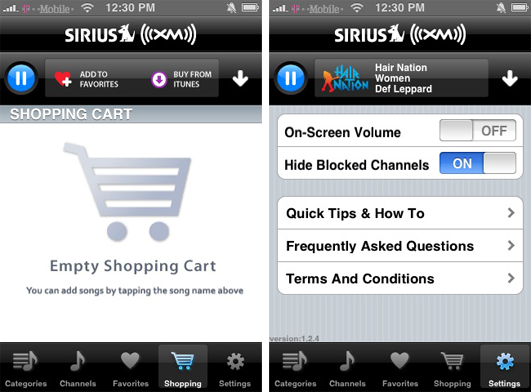 That said, the Sirius XM app works well and offers a lot of great content. It's worth trying for the 7-day free period, and if you don't mind the monthly fees, it's a perfectly serviceable streaming radio option on the iPhone. But without its most popular content options, it's hard to believe the Sirius XM app and its additional monthly fee will catch on with listeners.