Mozilla releases faster, safer, smarter version of Firefox browser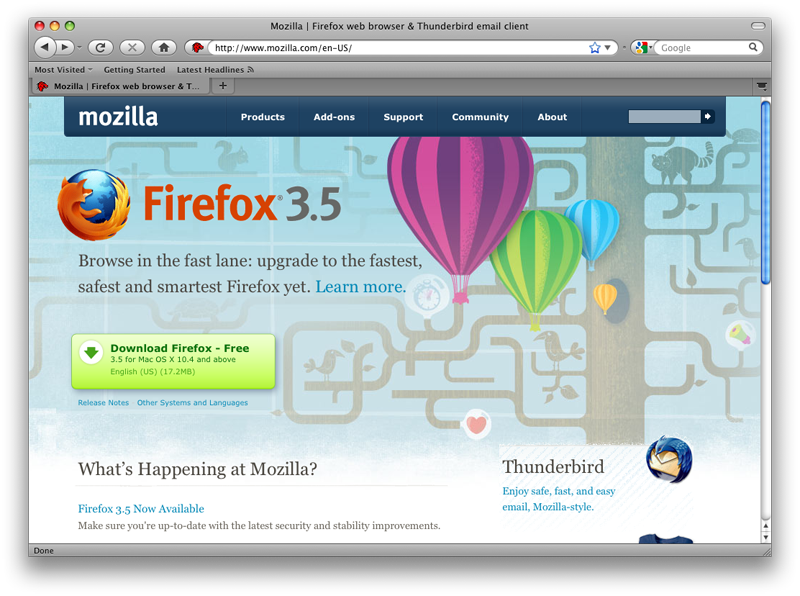 Mozilla on Tuesday released Firefox 3.5, calling it the best performing version of its popular web browser ever released, offering better JavaScript performance, private browsing, native support for open video and audio, and location aware surfing.
Built through Mozilla's global, open source development process, Firefox 3.5 is said to be more than two times faster than Firefox 3 and ten times faster than Firefox 2 on complex websites thanks to a new TraceMonkey JavaScript engine. The new version arrives roughly one year after the release of Firefox 3.0, which was also billed as "two to three times faster" than its predecessor.
Firefox 3.5 has undergone "extensive under-the-hood work to support new technologies" that will allow Web developers to create the next generation of Web content, Mozilla says. It also packs a handful of user-oriented features such as:
Open Video and Audio: Supports playback of video and audio content from within the browser, without the need for plugins. Web developers can use these technologies to design pages that interact with video content in new and interesting ways, offering richer interactive experiences beyond controlling playback and volume.
Privacy Controls: Like the "Private Browsing" feature of Apple's Safari web browser, an identically-named addition to Firefox 3.5 similarly prevents the browser from storing anything related to a browser session once it's been activated.
Unique to Firefox 3.5, however, is a new Forget this Site feature that removes every trace of a site from a user's browser. Users who want to remove all private data or activity from the past few hours can also use a Clear Recent History function, which is another Firefox-only feature that offers users more control "over what stays and what goes."
Location Aware Browsing: Location Aware Browsing is an optional feature that, when enabled, lets websites tap into a user's location information to find nearby points of interest and return additional, data-like maps of their particular area.
Firefox is currently the world's second-leading browser with a 22.5% share of the global web browser market. It trails only Microsoft's Internet Explorer, which maintains 65.5% of the market. Apple's Safari is distant third with just under 8.5% market share.