Apple's Mac shipments rebounding sharply in recent weeks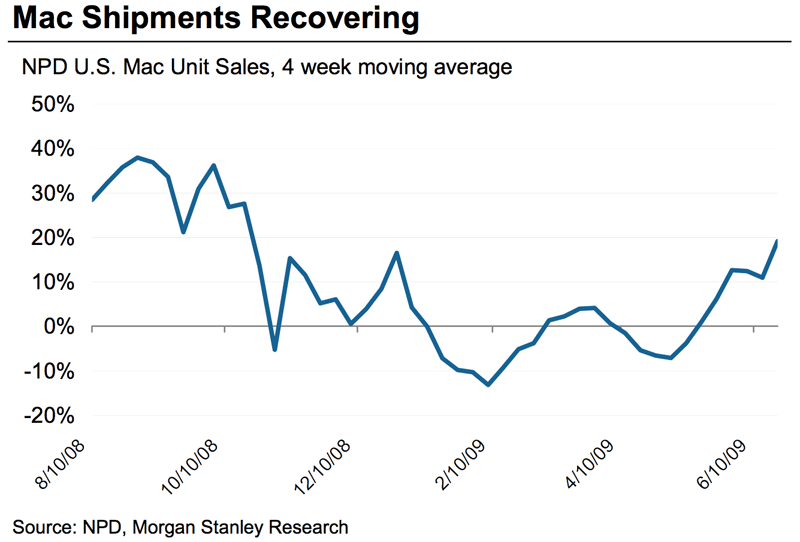 AppleInsider may earn an affiliate commission on purchases made through links on our site.
An aggressive back-to-school promotion and a more affordably-priced overhaul to Apple's MacBook Pro notebook line are boosting Apple's personal computer shipments to levels not seen since last October, shortly before the economic climate caught up with the Mac maker in earnest.
In a Systems and PC Hardware report released Wednesday, Morgan Stanley analyst Katy Huberty, renowned for under-estimating and under-valuing Apple for some time, is pressing forth with her renewed bullish outlook on the Cupertino-based company.
In particular, she points to "several data points" that suggest Mac shipments have regained enough momentum that they'll beat her second quarter and 2009 calendar estimates by a recognizable margin. The first of which was the broad refresh of the MacBook Pro line early last month that will "likely provided a catalyst for growth in both the June and September quarters"
Huberty also provided a graph based on weekly data from market research firm NPD that points to a "steady acceleration of Mac shipments over the last few weeks" since the MacBook Pro line saw its refresh. But even prior to that launch, "Apple began to outperform the broader commercial PC segment — with commercial Mac shipments up 25% month-over-month in May versus market growth of just 1%," she wrote.
As a result, Huberty now sees Apple reporting sales of 2.5 million Macs for the three-month period ended June, up 4% from her previous estimate of 2.4 million Macs. If accurate, the forecast would imply 12% quarterly growth — which is just below the company's 14% average over the past 3 years — and a more than respectable 1% year-over-year decline given the economic situation.
The Morgan Stanley analyst also increased her shipment forecast for rivals Dell and HP on the heels of her broader market growth assumptions, but said Apple "offers the most upside especially in light of healthy retail inventory levels and recent signs of improving commercial and retail Mac sales."
Huberty similarly increased her 2009 and 2010 calendar year Mac unit estimates to 10.2 million and 11.7 million, up from 9.7 million and 10.3 million, respectively.