Don't expect Apple TV as cable set top box, Apple exec says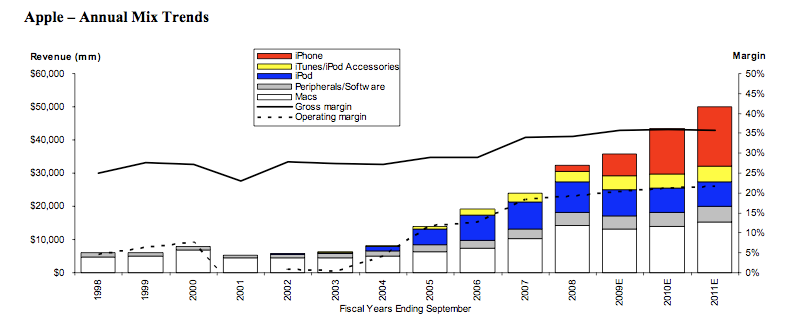 Though rumors have persisted for years that the Apple TV might transition from a media streaming solution into a cable box competitor, a new report said an Apple executive "killed that concept."
In its latest note to investors, Caris & Company said Tuesday that its analysts recently met with Apple Chief Financial Officer Peter Oppenheimer, who gave insight on a number of subjects. Among the topics discussed: the Apple TV, which has been long-rumored to receive some cable box-type functionality, including live TV recording and integration with cable providers. But according to analyst Robert Cihra, Oppenheimer effectively doused that rumor with a clear statement that the move doesn't make sense for Apple.
"While some have wondered whether Apple might ultimately try to integrate traditional cable set-top box (decoding) functionality into its Apple TV product, Mr. Oppenheimer pretty much killed that concept and said that it just doesn't fit Apple's business," the report said.
Though there had been speculation that a possible refresh or price drop of the Apple TV could occur at the Sept. 9 event, one report said industry watchers should not expect an appearance by the hardware at Apple's media-centric keynote.
Caris' conversation with Oppenheimer covered a number of other subjects. In one point, the company's research notes states that Apple's chief financial officer implied that the company would continue to lower prices on its Mac lineup — or offer new products at lower price points. However, Cihra noted that he does not expect Apple to join the low-end PC market.
The report also noted that the popularity of the iPhone has made it difficult for Apple to keep up with demand. Though Oppenheimer did not provide any specifics to Caris, he did say that the company has had trouble keeping its new iPhone 3GS in stock. Caris predicts that Apple will sell 27 million iPhone units in 2009, bolstered, in part, by the upcoming upcoming debut of the handset in China.
"Mr. Oppenheimer said he was simply happy to now be able to 'check that box,' with iPhone's launch into China have been a long-awaited milestone," the report said. "And while the vast majority of China's cell phone market is pre-paid, Apple sees no reason why iPhone should have any disadvantage taking share of pre-paid markets vs. its post-paid success."
The one downside the Caris note mentioned from the company's meeting with Oppenheimer was that supply of components for devices remains "tight," and costs continue to rise. Cihra said he does not see this as a major concern for Apple, but it is noteworthy because it demonstrates that no one in the tech industry is immune to the ongoing component supply issues.
Cihra reiterated his "Buy" rating for AAPL stock and maintains a price target of $200. With iPhone and Mac sales "tracking strong" this quarter, the Caris note said that only tight component costs could hold back Apple.
"We continue to believe Apple has proved itself the single most innovative and profitable consumer technology company in the world and continue to see headroom for growth via both iPhone and Mac (market) share gains."