Apple unveils cleaner iTunes 9 with app management, LPs, and more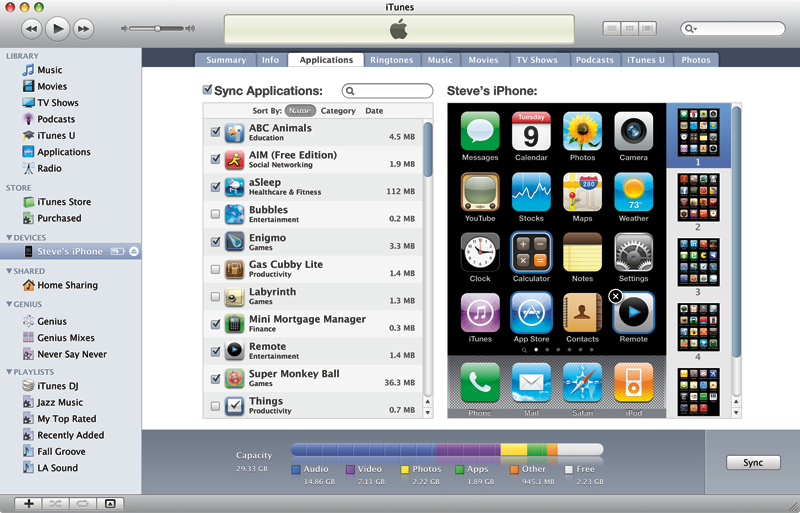 AppleInsider may earn an affiliate commission on purchases made through links on our site.
The latest version of iTunes brings improved syncing and application management, allows easier sharing of content, features a redesigned iTunes Store, and includes enhanced albums in the form of iTunes LPs.
The update to Apple's media player and online store is now available for download.
"iTunes 9 is a great iTunes release, with innovative features that make using iTunes better than ever and iTunes content richer than ever," said Steve Jobs, Apple's CEO. "iTunes LP, for example, lets artists share more of their creativity with fans and gives music lovers the feeling of being immersed in an entire album with art, lyrics, liner notes, photos and videos."
A new Applications view allows users to view all of their iPod touch and iPhone home screens. The new feature will allow users to rearrange applications on the computer, designated which software goes where.
A redesigned iTunes store includes new artist, movie and TV pages, complete with improved navigation. The cleaner layout is designed to make it easier for customers to browse. The store also includes iTunes LPs, which will bring additional content, such as audio, video, pictures, liner notes and more, exclusively to full-album purchases. The enriched album format is designed to encourage purchases of full-length albums instead of singles. One example showed iTunes scrolling through lyrics as a song played.
iTunes LP debut albums include Bob Dylan's "Highway 61 Revisited," Norah Jones' "Come Away With Me," The Grateful Dead's "American Beauty" and Dave Matthews Band's "Big Whiskey and the GrooGrux King: iTunes Pass."
Similarly, DVD-like special features are coming for movie downloads. iTunes Extras provide documentaries, deleted scenes, interviews and interactive galleries. The feature is available for select movies, including "Twilight," "Batman Begins," "WALL-E," "Iron Man" and "The Da Vinci Code."
Improved home sharing will let users copy songs, movies and TV shows among up to five authorized computers. Users are required to have an iTunes Music Store account. The new feature will allow content to be streamed, or included in a separate library with a local copy. In addition, a separate display allows users to see content that is not in their local library.
The rumored social media integration in iTunes 9 because official as well. Links to content can be share directly with Facebook and Twitter.
The Genius feature has also received an upgrade: Genius Mixes are created by using the results of over 27 million music libraries featuring more than 54 billion total songs submitted and analyzed by Genius. The new Genius Mixes can automatically generate up to 12 "endless mixes" of songs from an iTunes library.