iPod touch speed tests; iPhone radiation; Google Chrome Mac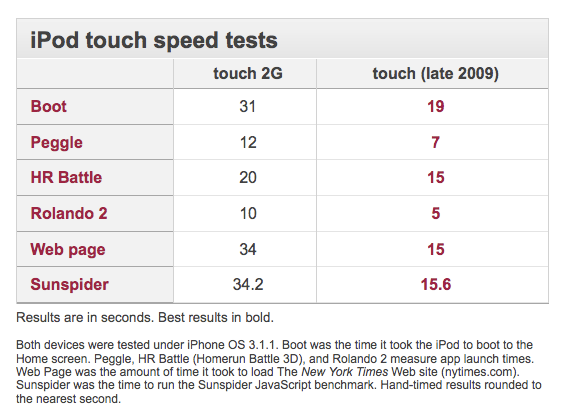 A new test proves Apple's claims of a 50 percent faster iPod touch; the iPhone does OK in a radiation emission test; and Google Chrome is updated, but Mac users still have to wait for a final version.
New iPod touch carries performance boost
In a new test Macworld pitted the new iPod touch and its faster processor against the second-generation model, and the results proved what Apple has touted: the new model is, in some cases, more than twice as fast as its predecessor.
"Just as the iPhone 3GS was faster than the iPhone 3G at everything, the new iPod touch feels much faster at any task you throw at it: applications launch (and quit) faster, Web pages load more quickly, processor-intensive games and programs perform better—you name it," the test concluded.
Unveiled last week, the new iPod touch comes in capacities of 32GB for $299 and 64GB for $399. Both models have a faster processor that can run Open GL ES 2.0. Apple also offers the 8GB model, which does not sport the faster hardware.
iPhone 3GS fares decent in radiation test
A new report from the Environmental Working Group tackles the subject of radiation output from cell phones and potential health implications. The study concludes that those who use cell phones for 10 years or longer have "serious health problems."
"Scientific research conducted over the past decade has associated cell phone radiation with increased risk of developing brain and salivary gland tumors, neurological symptoms such as migraine and vertigo, and neurodevelopmental effects observed as behavioral problems in young children," the report said.
It recommends that the U.S. government mandate that radiation emissions of phones be provided to users at point of sale, and that users buy phones that output low levels of radiation.
In a breakdown of all phones, iPhone 3GS is found to produce a specific absorption rate of 1.19 W/kg of radiation. That places it about in the middle of the road for smartphones — well ahead of the T-Mobile myTouch 3G (1.55 W/kg) and Blackberry Bold 9000 (1.51 W/kg), but also far behind the Samsung Impression (0.35 W/kg) and Blackberry Storm 9530 (0.57 W/kg).
The original iPhone produced 0.97 W/kg, while the iPhone 3G, which is still available for $99, produces 1.39 W/kg when held at the ear.
The organization provides tips for users to limit exposure to radiation, including using a headset, holding the phone away from the body, and texting instead of talking.
Google Chrome for Mac release by end of year
"A much-anticipated Mac version of Chrome, currently only available for testing, will be released by the year's end, Google Product Management Vice President Sundar Pichai said recently during the same interview with Reuters at Google's headquarters in Mountain View, California," the report said.
Released just a year ago, Chrome has seen a number of improvements since its debut. Google said that the browser's JavaScript performance has sped up by more than 150 percent, including a 25 percent boost from the latest release. In all, 3,505 bugs have been addressed in the first 12 months.
While Chrome is already in version 3, don't expect to see the browser released for Mac before version 4 is available. That is where "Chromium," the pre-alpha version of the browser for Mac, is numbered. In a test last month, Chromium was found to be 34 percent faster than Safari 4.0.3 in the SunSpider JavaScript benchmark.