AT&T notifies iPhone users of impending MMS launch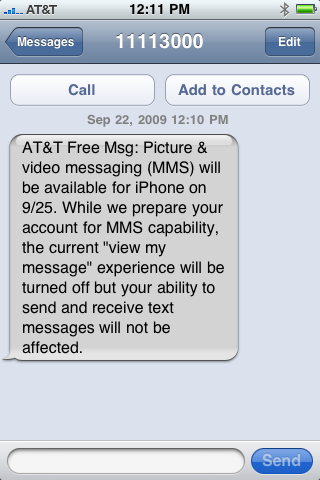 AppleInsider may earn an affiliate commission on purchases made through links on our site.
Wireless carrier AT&T began sending out text messages this week letting iPhone users know that multimedia messaging capabilities will be available on Friday, Sept. 25.
The free message sent from AT&T to subscribers reaffirms the Friday launch date announced weeks ago for the iPhone 3G and iPhone 3GS. Original iPhone users will not be able to use MMS functionality.
"AT&T Free Msg: Picture & video messaging (MMS) will be available for iPhone on 9/25," the message reads. "While we prepare your account for MMS capability, the current "view my message" experience will be turned off but your ability to send and receive text messages will not be affected."
Some users have reported that AT&T has already enabled MMS functionality on their iPhone. With iPhone OS 3.0, Apple added the ability to allow users to send pictures, video and audio recordings, but the new feature requires operator support. Users will also be able to send contacts or locations from the Maps application.
AT&T has been working for months to prepare their systems and network for MMS capabilities on the iPhone, which is expected to bring a great deal of additional bandwidth the the wireless provider's network. While the feature was originally promised late in the summer, its Sept. 25 launch date will miss the already-passed season by a few days.
Tethering with the iPhone was also supposed to be offered, however AT&T officials have said that the functionality is expected at a later date. The nation's second-largest wireless carrier, however, has said it has no plans to cap bandwidth use for iPhone users, even when tethering is offered.