Purported shots of Microsoft's touchscreen device revealed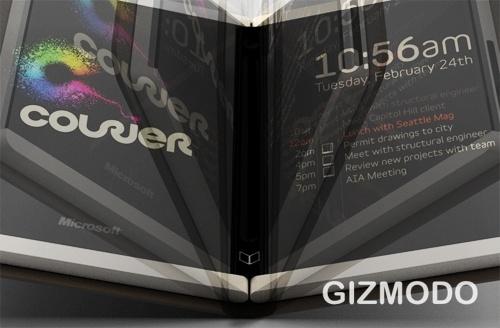 AppleInsider is supported by its audience and may earn commission as an Amazon Associate and affiliate partner on qualifying purchases. These affiliate partnerships do not influence our editorial content.
Detailed mock-ups alleged to be Microsoft's rumored touchscreen hardware have surfaced, revealing a dual-screen device that folds out like a book — very different from the form factor Apple's own 10-inch tablet is rumored to take.
Gizmodo has pictures and video of the device, named Courier, which is reported to be in the late prototype stage of development. The device has two 7-inch screens held together by a hinge. The multi-touch screens are designed for writing, and can be controlled with either a stylus or fingers.
The Microsoft Courier also reportedly includes Wi-Fi, an iPhone-like home button, a camera on the reverse side, and perhaps an inductive charging pad like the Touchstone available for the Palm Pre.
The project is said to be under the eye of J Allard, Microsoft's chief experience officer. Earlier this week, another report corroborated the existence of the touchscreen device as part of something known as "Alchemy Ventures."
Though the project was kept tightly under wraps at Microsoft, a video and pictures were obtained from an internal division within the Redmond, Wash., company's Entertainment & Devices section, showing an authentic-looking mock-up of the device.
Though Apple's own tablet device only exists in rumors thus far, comparisons are only inevitable as the hype around the anticipated hardware from the Cupertino, Calif., company has continued to build for months and years.
"The Courier user experience presented here is almost the exact opposite of what everyone expects the Apple tablet to be, a kung fu eagle claw to Apple's tiger style," the report said. "It's complex: Two screens, a mashup of a pen-dominated interface with several types of multitouch finger gestures, and multiple graphically complex themes, modes and applications. (Our favorite UI bit? The hinge doubles as a "pocket" to hold items you want move from one page to another.) Microsoft's tablet heritage is digital ink-oriented, and this interface, while unlike anything we've seen before, clearly draws from that, its work with the Surface touch computer and even the Zune HD."
Earlier this week, it was speculated that Microsoft might wait to officially reveal its device until Apple unveils its own, long-rumored tablet, expected to launch in early 2010. But with Tuesday's alleged leak, the company might be forced to show off its concept before then.
Whether Microsoft would make the hardware themselves or license it out to third-parties is unclear. The Gizmodo report only notes that the device "appears to be at a stage where Microsoft is developing the user experience and showing design concepts to outside agencies."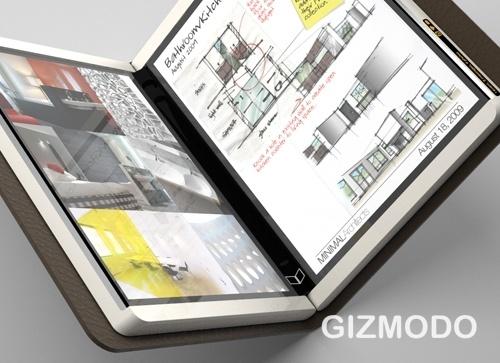 In addition to pushing the notion of the tablet PC for years, Microsoft has been behind one other touch-centric device, called Surface. Revealed more than two years ago, the costly technology has yet to see any widespread real world adoption.