Apple unveils new licensing program for education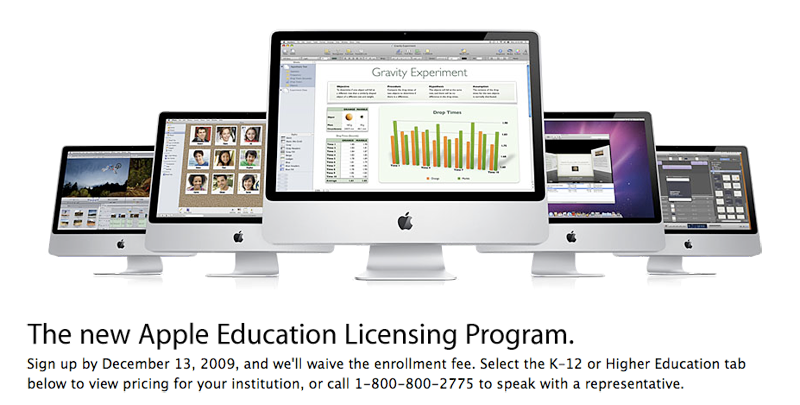 Apple has changed its licensing program for educational institutions, shifting to the purchase of annual coverage to keep software up to date for schools.
Through the new plan, institutions can purchase annual coverage. Each year, a license renewal provides 12 months of guaranteed upgrades to the latest releases of Apple software. The program includes a one-time enrollment fee of 10 percent of the annual purchase price, though schools that sign up before Dec. 13, 2009, will have the fee waived.
Apple has said that the new program replaces all including programs, including Apple Maintenance Program, Volume License and K12 School Site License. Those under the old plans with credits can be transferred to the new system if they do so before Dec. 13.
"The new Apple Education Licensing Program makes it easier to keep your school's Apple software current and compliant," the company's Web site says. "Coverage is purchased annually, keeping costs consistent year after year, and the new bundle structure allows you to manage against a single expiration date."
First noted by MacNN, the licensing change replaces a plan that had schools purchase Mac OS X for $39 to $59 per copy. Now, guaranteed upgrades for Mac OS X, iWork and iLife run from $899 per year for 25 seats, to $199,999 per year for 10,000 seats. Options are also available for Aperture, Final Cut Studio, Final Cut Express, Logic Studio, Logic Express, Apple Remote Desktop, Mac OS X Server, and Xsan.
The program also allows at-home licenses for faculty, staff, and students to use Mac products and remain up to date. Student licenses are available with Mac OS X if it covers 100 percent of the student-owned Mac computers on a higher education campus. The Mac OS X, iLife and iWork collection ranges from $1,499 for 25 college students to $339,999 for 10,000 students.
Though the K-12 institutional business in the U.S. has been weak this year due to budget cuts, it is still a significant segment of Apple's market. In the second quarter of this year, the Mac maker spent $390,000 to lobby the U.S. government. One of the focal points for Apple was education funding, as the company hopes to see stimulus funds help boost the institutional business.