Apple Genius says dropped AT&T calls in NYC 'consistent'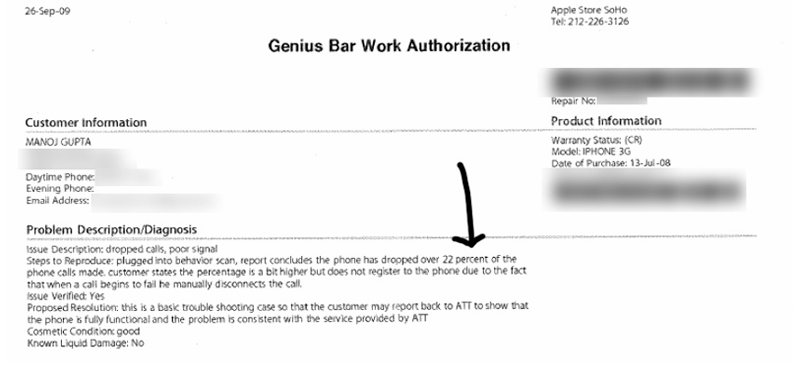 AppleInsider may earn an affiliate commission on purchases made through links on our site.
A man who took his iPhone 3G in to a New York City Apple Store because of a large number of dropped calls was allegedly told that a 30 percent failure rate is average for a local AT&T customer.
In a diagnosis issued by the Genius Bar, the proposed resolution for the issue was for the customer to contact AT&T, because "the problem is consistent with the service provided" by the wireless carrier. Not included in the report, however, is what a Gizmodo reader claimed he was told by the Apple Store Genius: That a 30 percent dropped call rate is average for the New York area.
The man took his iPhone 3G to the Apple Store in SoHo, located at 103 Prince Street in New York City, to see if his dropped calls were as a result of the hardware. The man said that roughly a third of his calls disconnected.
The Genius plugged the phone in for a "behavior scan," where logs showed that over 22 percent of calls were dropped. The customer told the employee that the failure percentage is likely higher, because he often manually disconnects once a call begins to fail.
Purchased in July 2008, the phone was found to be "fully functional" by the Genius, with no liquid damage or major cosmetic blemishes. The Genius told the customer that AT&T would need to address his problem.
The iPhone has placed a significant strain on AT&T's network, particularly in large cities such as New York. The issue has been so serious that the company, in recent months, has

">admitted its shortcomings

since the launch of the iPhone 3GS, and vowed to make improvements and do better.
This summer, the wireless carrier announced it strengthened its 3G signal in the populous Tri-State region. The 850MHz spectrum was deployed across portions of New York City, Long Island and New Jersey, in an effort to bring better reception and speed.
In the future, some of AT&T's network woes could be addressed by the new 3G MicroCell, which offers unlimited calling via home Internet access with new hardware. The technology is currently in testing in North Carolina, and AT&T officials have not yet announced plans to further expand it.