Evidence of Apple's tablet-like input interface reappears
In a new patent application revealed this week, Apple has again disclosed plans for a multi-touch surface that could accommodate two full hands and distinguish between palms and individual fingers for typing, gestures and more.
The application, filed by Morrison and Foerster LLP in Los Angeles in June 2009 on behalf of Apple, expands on information first revealed by AppleInsider in early 2008. The massive document details a hand-based system that would allow "unprecedented integration of typing, resting, pointing, scrolling, 3D manipulation, and handwriting into a versatile, ergonomic computer input device."
The document notes that input with a stylus, mouse, keyboard and voice recognition are all options that work well in specific circumstances, but are not dynamic enough to address the many needs of users. But, it states, many of those needs can be met with touch-sensitive technology that can recognize a number of hand configurations.
"Many attempts have been made to embed pointing devices in a keyboard so the hands do not have to leave typing position to access the pointing device... The limited movement range and resolution of these devices, leads to poorer pointing speed and accuracy than a mouse, and they add mechanical complexity to keyboard construction," the application reads. "Thus there exists a need in the art for pointing methods with higher resolution, larger movement range, and more degrees of freedom yet which are easily accessible from typing hand positions."
The described system in the patent application would individually detect all ten fingers and separate palms on a person's hand, giving the ability to type, write, draw and interact with a device large enough to support multiple hands. Examples of the touchscreen capabilities include resting of hands, measuring when a hand or fingers touches and leaves the surface, interpreting taps from one finger as mouse button clicks, but disregarding a tap from two fingers, and more. Activities done with multiple fingers are referred to as "chords."
Such a system could ergonomically adapt to individual hand sizes, eliminate the need for a stylus and mouse, would require minimal typing force. The application notes that there are other patents for touchscreen devices that negate the need for a keyboard or mouse, but states that Apple's method is unique because it addresses both needs.
Typing is a large part of the lengthy application. The document goes into great detail about how a multi-touch interface could distinguish what keys a set of hands intend to type on the surface. It discusses pressure on the sides or center of individual fingers and palms, and how to interpret those various signals.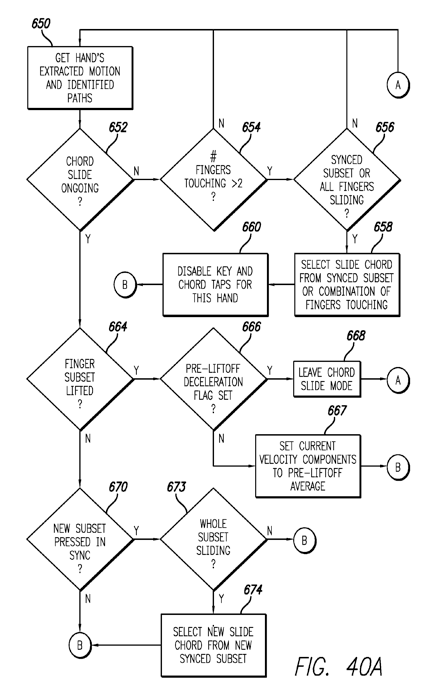 Key points of the invention, as described in the application, include:
Integrating and distinguishing different types of input, such as typing, multiple degree-of-freedom manipulation, and handwriting, via different hand configurations that are easy to use and recognize.
Includes an electronic system which minimizes the number of sensing electrodes to allow easier understanding of a variety of hand configurations.
Provide a multi-touch surface that is contoured to be comfortable and ergonomic under extended use.
Provide tactile key or hand position feedback without interfering with a hand resting on the smooth touch-sensitive surface.
Provide images of "flesh proximity" to a variety of sensors that can distinguish hand configuration.
Understand when the user wants cursor motion, and ignore commands when deceleration by the user is detected.
Understand the movement of two or more hands to allow manipulation of two-dimensional electronic documents, like rotation and scaling of photos.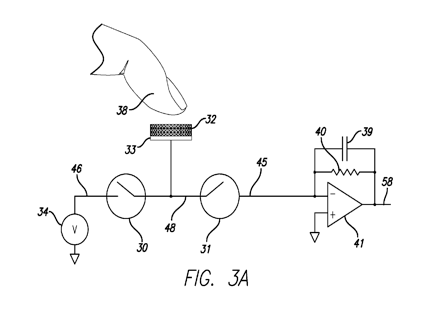 The application is partially credited to Wayne Westerman of Fingerworks, a company absorbed by Apple several years ago as part of its quest to deliver iPhone and a new generation of input devices.
Though long-rumored, Apple has not yet released any details about its anticipated tablet. Sources have told AppleInsider that the device will not appear until early 2010. Since co-founder Steve Jobs returned to the company after a leave due to health reasons, the project has reportedly been the CEO's number one focus.
Apple has been at work on the project for many years, and the hardware has seen numerous internal iterations, only to be reset a number of times. The current device is believed to have a 10-inch screen, 3G connectivity, and sport a custom-made chip from P.A. Semi.