Apple announces In App Purchases for free App Store software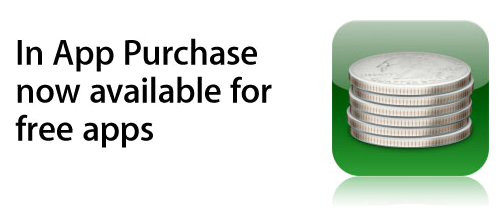 Apple has announced that developers who offer free App Store applications can now take advantage of in-app transactions — a feature that was previously allowed only for paid software.
The In App Purchase feature, which was implemented in the iPhone 3.0 software update for paid applications, has now been expanded for use in free applications. Previously, some developers were forced to charge a nominal $0.99 fee for their software to have In App Purchase capabilities.
The new policy has already affected some prominent applications, including MapQuest's Navigator. MapQuest had previously offered a $.99 price for a 14-day trial. Now due to what the MapQuest blog called "App Store restrictions," they now initially offer the application for $3.99 for one month of use.
TechCrunch suggested that this change will have a major impact the structure of paid and free applications. Due to the previous paid-app restriction, premium app makers have often offered both full and light versions of their software. Now that free applications are essentially upgradeable, developers will not face this problem.
The note sent to developers Thursday reads:
"In App Purchase is being rapidly adopted by developers in their paid apps. Now you can use In App Purchase in your free apps to sell content, subscriptions, and digital services.
"You can also simplify your development by creating a single version of your app that uses In App Purchase to unlock additional functionality, eliminating the need to create Lite versions of your app. Using In App Purchase in your app can also help combat some of the problems of software piracy by allowing you to verify In App Purchases.
Visit the App Store Resource Center for more details about how you can add In App Purchases to your free apps."