Burger King sells Windows 7 Whoppers as Microsoft begins Guru training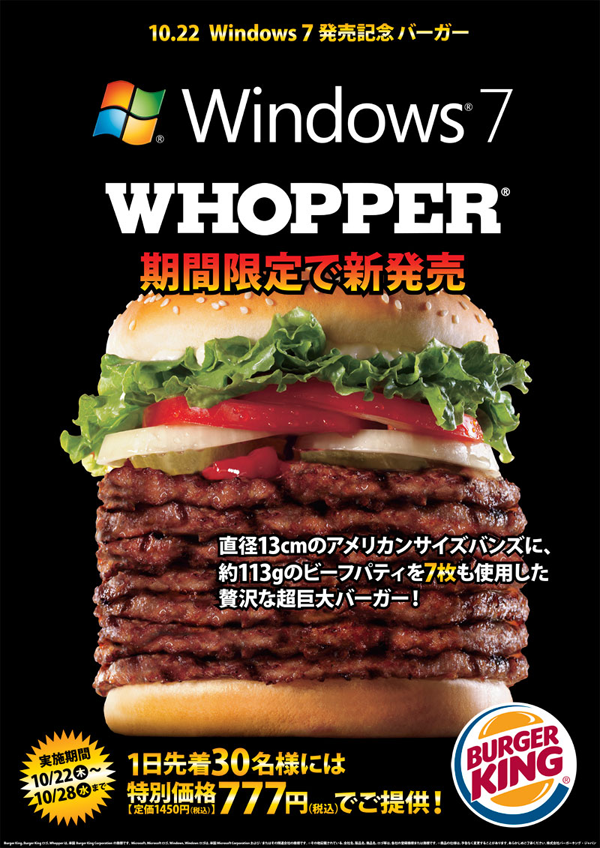 AppleInsider may earn an affiliate commission on purchases made through links on our site.
In concert with Thursday's release of Windows 7, Burger King in Japan has begun selling a Whopper with seven patties of meat; and a Microsoft Store "Guru" has been spotted in person.
In yet another bizarre bit of promotion, Burger King in Japan is selling a seven-pattied Whopper hamburger to commemorate the launch of Windows 7, Microsoft's new operating system. As first reported by Electronista, the new burger measures 5.1 inches tall and costs 777 yen, or $8.53 U.S.
Microsoft has embraced some alternative manners to promote the launch of Windows 7 operating system, including the widely ridiculed Tupperware-like house party. The launch party promotion included the distribution of party packs, and a video demonstration that showed participants how to host a successful get-together.
Microsoft has also paid for a Windows 7-centric special episode of the Fox animated comedy "Family Guy." Entitled "Family Guy Presents: Seth & Alex's Almost Live Comedy Show," it will air commercial-free on Sunday, Nov. 8 at 8:30 p.m. EST and PST.
Overseas, Microsoft has enacted a number of promotions related to the number seven, including a free giveaway of the operating system to residents of the Dutch village Zevenhuizen, which translates to "Seven Houses." Apple's rival to the north also reportedly decorated parts of the Spanish village Sietes, which translates to "Sevens."
Thursday's launch of Windows 7 also marked the opening of the first Microsoft retail store in Scottsdale, Ariz. Microsoft plans to open a number of retail locations to compete with Apple. The brick-and-mortar stores will sell Microsoft software and first-party hardware, such as Zunes and Xbox 360 consoles.
Microsoft also intends to mimic Apple's Genius Bars with its own Guru Bars. At a recent Windows 7 training seminar, one AppleInsider reader spotted a Windows Guru in his outfit. The person in attendance was reportedly believed to be a contracted agent who does not work for Microsoft directly.
The Windows 7 training session gave people the opportunity to go hands-on with the new operating system. Microsoft provided customers with demo books that people could use to show customers different features.
The seminar also portrayed the PC as a superior platform to the Mac, noting that 32 of the top 100 programs for users are available for the Mac.
"The Guru was really just there to help out if we had questions," the attendee said. "He made no special presentation and from listening to him as he walked around, he really didn't sound all that knowledgeable about Windows 7. I would liken him more to a Geek Squad Agent at Best Buy than an Apple Genius."