Apple's 'illegal' Boston billboard at center of political controversy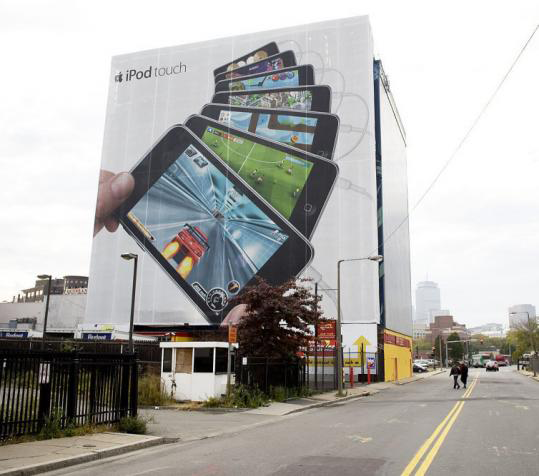 AppleInsider may earn an affiliate commission on purchases made through links on our site.
A giant iPod touch billboard in Boston deemed illegal due to its size and location is at the center of a political controversy involving the city's mayor.
Despite the fact that a 13,750-square-foot iPod touch banner on the side of a Boston self-storage building was declared illegal by the Massachusetts Outdoor Advertising Board, the massive advertisement has remained since the fall of 2007 with and without special permits. According to The Boston Globe, the companies behind the billboard agreed to pay the state $110,000 for a settlement in June — the largest known payment for any such advertising dispute.
The report suggested that the deal was reached with some assistance: A top campaign aide to Mayor Thomas M. Menino admitted to helping a business acquaintance behind the advertising agreement work his way through the permitting process. That acquaintance has also donated the maximum-allowed political campaign contribution of $500 to Menino every year since 2005.
The report said the mayor eventually endorsed the giant outdoor billboard, despite what the Globe called his administration's "usual discouragement of new billboards."
The one-year temporary permit for the iPod ad expired last fall, but the partners behind it did not file for a new permit until June, when the $110,000 settlement with the state was reached.
"The Outdoor Advertising Board has argued since 2007 that the ad's owners should have sought its approval for the sign," the report said. "If they had, it would have been rejected because of its size and proximity to other signs, according to Edward J. Farley, the board's executive director."
It continued: "The owners, however, said they are exempt because their ad promotes sales on the premises: Inside the Planet Self-Storage facility, a customer can buy iTunes gift cards, along with packing tape and locks."
In 2008, Apple opened a flagship store in Boston, at 815 Boylston St. It is a three-story building fronted by glass, with a large 6,384 square feet of floor space.