Study suggests $600 mass-market sweet spot for Apple tablet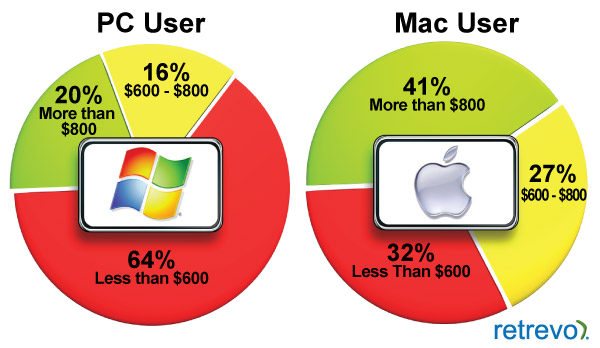 AppleInsider may earn an affiliate commission on purchases made through links on our site.
While most Mac users would have no problem paying more than $600 for Apple's long-rumored tablet, most PC users would not consider hardware above that price, a new study suggests.
In a survey of 753 customers, Retrevo.com found that 64 percent of PC users accustomed to low-cost machines would only buy the Apple tablet if it costs less than $600. But 27 percent of Mac users would pay between $600 and $800, and 41 percent said they would spend more than $800 on the still-unseen hardware.
In conclusions drawn from the Gadgetology survey, the company said that the iPhone has found success by appealing to users beyond the Mac market, and the tablet must do the same. The study also assumed that those considering the pruchase of a netbook would be most interested in the touchscreen device.
"Apple had better hurry up if they want to capture any of the netbook market because many consumers, both Mac and PC owners, have already bought a netbook and many more plan on buying one soon," the study said.
The survey found that 37 percent of Mac users plan to buy a netbook within the next year, and 36 percent of PC users plan to do the same. Among iPhone users, 40 percent said they were eyeing a netbook purchase. A study from the company in August found that school shoppers chose netbooks over Macs.
In other Apple tablet news, Bill Keller, executive editor of The New York Times, referenced Apple's forthcoming touchscreen device in a presentation to the newspaper's digital staff. Keller said that print publications would need to embrace new hardware, like the "impending Apple slate," if they want to succeed. His comment, in full, was as follows:
"We need to figure out the right journalistic product to deliver to mobile platforms and devices. I'm hoping we can get the newsroom more actively involved in the challenge of delivering our best journalism in the form of Times Reader, iPhone apps, WAP, or the impending Apple slate, or whatever comes after that."
Apple's tablet device is expected to arrive in the first quarter of 2010 with a 10-inch screen and 3G connectivity. Recent rumors have pegged the multifunction device as a potential e-reader, and officials with The New York Times and other publications are alleged to have had discussions with Apple about making their content available for the hardware.