Apple's 2010 capital expenditures could signal major investments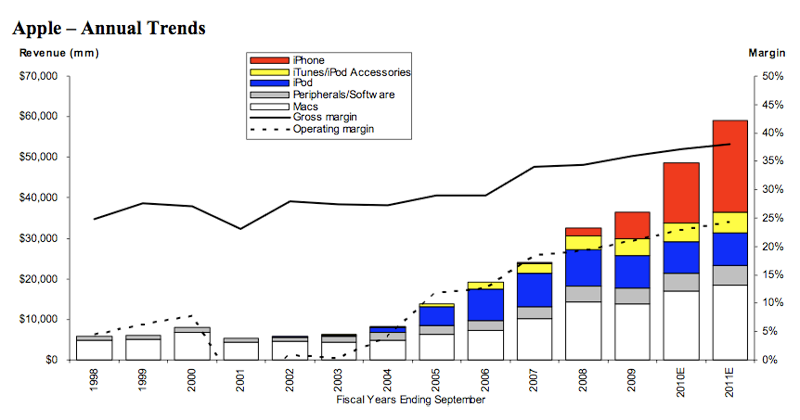 Apple has forecast a 70 percent increase in capital expenditures for the 2010 fiscal year, which one analyst has said could be a sign the Mac maker is investing in "strategic new infrastructure."
In his latest note to investors Monday, Robert Cihra, analyst with Caris & Company, noted that Apple's most recent Form 10-K filing with the U.S. Securities and Exchange Commission has called for a major $1.9 billion in capital expenditures during the 2010 fiscal year. That's well up from the $1.1 billion the company spent in 2009.
While the number could be an example of Apple's traditionally conservative guidance given to investors, Cihra said it's also possible that the increased expenses could mean that Apple is planning for something big in the coming year.
"This year's 10K added wording for purchases of 'product tooling and manufacturing process equipment,' which could imply Apple reversing course to actually build certain products/components in-house," Cihra said. "Beyond that are signals of Apple investing in massive new data center capacity (e.g., North Carolina) that could support anything from iTunes/iPhone Apps through new 'cloud computing.'"
Earlier this year, Apple selected Maiden, N.C., as the location for its $1 billion server farm. The exact purpose of that data center has not been stated.
Cihra expects Apple to have a huge December quarter, with sales of iPhones and Macs boosted higher during the holiday season. He has upped his forecast of Mac sales for the first financial quarter of 2010 to 3.4 million. If accurate, that would exceed the record 3 million Macs sold in the September quarter. Those sales will be propelled by the new 13-inch unibody Macbook and redesigned desktop iMac.
He also expects a new record in iPhone sales at 10 million units shipped, well beyond the 7.4 million sold last quarter. After the company faced supply constraints last quarter, Apple has increased orders for iPhones by 20 percent for the holiday. In addition, the handset's recent launch in China is expected to drive sales even higher.
Caris & Company has reiterated its buy recommendation for AAPL stock with a price target of $260.