Google issues custom unlocked phones ahead of rumored Jan. launch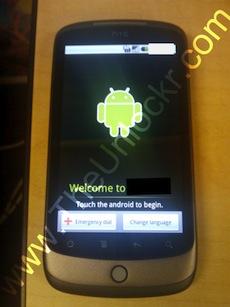 AppleInsider is supported by its audience and may earn commission as an Amazon Associate and affiliate partner on qualifying purchases. These affiliate partnerships do not influence our editorial content.
Employees of Google were allegedly given brand new, HTC-made "Google Phones" this week: an unlocked, GSM-based handset sporting an OLED screen and running a new version of the Android mobile operating system.
Bolstering evidence of the rumored January 2010 launch, the phone is said to be capable of running on both T-Mobile and AT&T networks in the U.S. According to TechCrunch, the phone sports an internal Snapdragon chip and a high-resolution OLED screen inside a form factor thinner than an iPhone.
The phones were reportedly distributed to Google employees this week, and various workers began posting to Twitter about the hardware. One person who claimed to see the hardware firsthand described the Google Phone as "an iPhone on beautifying steroids."
The touchscreen device has no physical keyboard (only virtual), but offers a voice-to-text feature that allows users to dictate e-mails and notes aloud. The handset runs the unreleased Android 2.1 and features two microphones — a second one on the back helps eliminate background noise. The report also said the hardware has a "weirdly" large camera.
Android 2.1 has new home screen visual enhancements that are said to add new features like animated desktop wallpaper. The hardware also includes a trackball for added control. It is said to be a tweaked version of the HTC Passion, pictured here:
Google also indirectly confirmed the distribution of the hardware on its official mobile blog, noting that the company was "dogfooding" a new product by testing it with its employees. No specific details on the hardware were officially provided from Google.
"We recently came up with the concept of a mobile lab, which is a device that combines innovative hardware from a partner with software that runs on Android to experiment with new mobile features and capabilities, and we shared this device with Google employees across the globe," Mario Queiroz, vice president of Product Management at Google said on the blog. "This means they get to test out a new technology and help improve it."
Previous reports had said Google worked closely with HTC to design all aspects of the hardware on the Google Phone. With numerous reports of a January 2010 launch, it's likely something could be made official by the CES conference, which begins Jan. 7.