Apple introduces iTunes Movie Bundles, iPhone holiday TV spot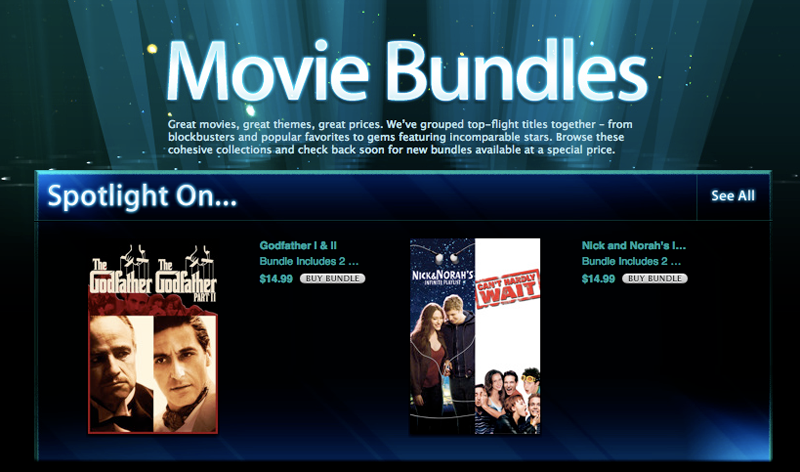 AppleInsider is supported by its audience and may earn commission as an Amazon Associate and affiliate partner on qualifying purchases. These affiliate partnerships do not influence our editorial content.
A new holiday-themed iPhone advertisement presents a spin on the classic "Twelve Days of Christmas" with App Store software, and discounted movie bundles have come to iTunes.
iTunes introduces Movie Bundles
Apple this week began selling two-packs of movies at a discounted price. The new "Movie Bundles" page has a number of $9.99 double features, $14.99 double and triple features, and $19.99 double and triple features.
"Great movies, great themes, great prices," the new page reads. "We've grouped top-flight titles together — from blockbusters and popular favorites to gems featuring incomparable stars. Browse these cohesive collections and check back soon for new bundles at a special price."
One featured bundle includes two of the most acclaimed movies of all time: "The Godfather" and "The Godfather Part II." Separately, each movie would cost $9.99. Together, the two cost $14.99, a $5 savings.
Some bundles also provide an HD option with even greater savings. The "Jason Statham Action Pack" offers the films "Crank 2: High Voltage," "Transporter 3," and "The Bank Job" for $24.99 in standard-def (saving $5), or $34.99 in HD (saving $25 over the regular purchase price).
Apple took a similar approach with music over the summer when it introduced the D45 section. As a throwback to the old days of the two-song 45rpm vinyl record, digital 45s feature discounted prices on two-packs of digital song downloads.
The Twelve Apps of Christmas
The 30-second commercial, entitled "12 Apps of Xmas," quickly lists software that allows users to view guitar tabs, search baking recipes, send postcards and more. It concludes with an app that, with the aid of external hardware, can light up a Christmas tree.
The Christmas tree feat is accomplished with the Schlage LiNK application, a free 0.7MB download (iTunes link) that allows the iPhone to connect to Z-Wave connected devices like locks, thermostats and electrical outlets.
View the ad in its entirety: