Apple's iPhone is most popular phone in US - study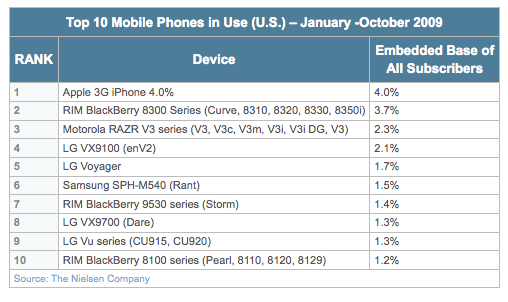 AppleInsider is supported by its audience and may earn commission as an Amazon Associate and affiliate partner on qualifying purchases. These affiliate partnerships do not influence our editorial content.
With 4 percent of all mobile device subscribers in the U.S., a new study has found that Apple's iPhone was the single most popular handset model in the country in 2009.
The iPhone edged out Research in Motion's BlackBerry 8300 series, which came in second place with 3.7 percent, according to new data released this week by Nielsen. The rankings measured the top 10 mobile phones in use in the U.S. from January to October 2009.
In third was the Motorola RAZR V3 series, which garnered 2.3 percent of the U.S. cell phone share. Coming in fourth was the LG VX9100 enV2, and fifth was the LG Voyager.
Overall, BlackBerry devices took a larger overall share. The 9530 series, also known as the BlackBerry Storm, came in seventh with 1.4 percent, and the 8100 series, including the Pearl, came in tenth with 1.2 percent.
Last week, another study found that the iPhone exceeded Windows Mobile in overall use in October. The iPhone had nearly 9 million U.S. users that month, while Microsoft's mobile operating system had just over 7 million. In July, the two companies were about even.
Together, the iPhone and iPod touch dominate the Web, with most mobile users browsing from devices that run the iPhone OS. In 2009, 38 percent of mobile traffic came from the platform on the AdMob advertising network.
The report also found that 21 percent of households now use mobile phones only, without a landline, and 15 percent of homes have at least one smartphone. In addition, most users pick pre-paid phones because they find the plans to be more straightforward.
The survey also revealed the top ten Web sites accessed over mobile phones in the last year, with Google's search coming in first, followed by Yahoo Mail and Gmail. The Weather Channel was fourth, and Facebook came in fifth.
Unsurprisingly, the top video destination for mobile devices in 2009 was YouTube, followed by Fox Interactive Media, the Weather Channel, Comedy Central and CBS.
The top online "brand" accessed via mobile phones for the year was Yahoo, followed by Google and Microsoft's collection of MSN, Windows Live and Bing coming in third. AOL's network took fourth, and the Weather Channel came in fifth. In tenth place was Apple.