NORAD helps children track Santa via iPhone, iPod touch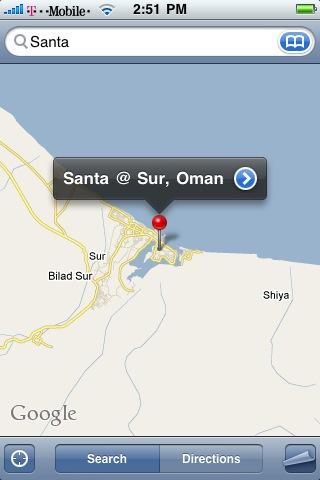 AppleInsider may earn an affiliate commission on purchases made through links on our site.
With the help of NORAD, children can once again track Santa's current location via the Maps application on an Apple iPhone or iPod touch all day Thursday for Christmas Eve.
The coverage began at 2 a.m. Thursday and is integrated with Google Maps both on the Web and on mobile devices. iPhone and iPod touch users can launch the Maps application and simply search for "Santa" to see where he's located.
The North American Aerospace Defense Command has been holding the holiday event for more than 50 years. The tradition began in 1955, when an advertisement for children to call Santa accidentally printed the phone number for the commander in chief of NORAD's predecessor, CONAD.
In response, the director, Col. Harry Shoup, had his staff check the radar for where Santa was located. The children who called were given updates on his location, thus spawning the annual event. Shoup, a retired U.S. Air Force veteran, passed away this year at the age of 91.
Google and NORAD first partnered in 2007, bringing the holiday-themed service to Google Maps and the Google Earth program. Users can download the Google Earth plug-in at noradsanta.org. Google Earth is available for PC, Mac and Linux. In addition to a desktop application, Google Earth can also be accessed as a Safari plugin and a mobile iPhone application.
Additional tracking can be done through YouTube, where footage from NORAD's "Santa cams" is available, and real-time search on Google, which scans Twitter, Friendfeed, news, blogs and more. Twitter users can also get tweets from @noradsanta.