Apple believed to have sold over 11 million iPhones this quarter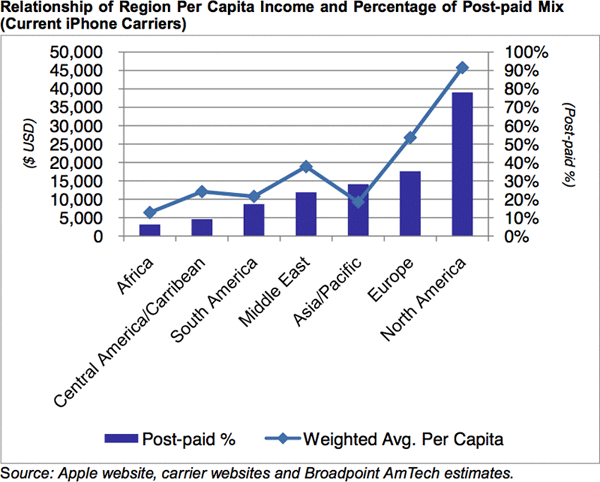 Apple come next month is expected to announce — by far — the most successful quarter for iPhone sales in the handset's history, according to one Wall Street analyst who raised his price target on the company to $260 per share.
Calling Apple stock a "must-own technology bellwether," Broadpoint.AmTech analyst Brian Marshall issued a research note to clients on Monday defending his well-above-consensus iPhone quarterly shipment estimates of 11.3 million units for the three-month period ending December.
That figure is nearly 30% higher than the Street's thinking of about 8.8 million units and would represent a more than 50% increase in sales over the previous quarter, when the Cupertino-based company sold a record 7.4 million iPhones.
Marshall's prediction takes into account assumptions that domestic iPhone activations through AT&T may slip 20% seasonally from the September quarter to just 2.5 million units. However, he's banking on a more than 100% sequential increase in international sales to 8.8 million units, noting that Research In Motion grew its international business by 40% sequentially during its recently-ended November quarter, in which it sold a record 10 million BlackBerries.
"Despite the enormous success of the iPhone since inception in July '07, we strongly believe the device is still in its infancy with respect to penetrating the global post-paid subscriber market, " he wrote. "For example, our analysis indicates that while the iPhone currently enjoys 5.0% penetration of [AT&T's] post-paid subscriber base, the penetration of its current international carrier partners' post-paid subscriber base is only 0.8%."
More specifically, the analyst said he believes the iPhone has the best opportunities in international territories with at least USD $20,000 per capita income.
"In our view, Apple remains the best technology company on the planet, and we are comfortable with our Street-high December '09 estimates of $12,509 million [in revenue] and $2.27 [in per share earnings]," Marshall said.
The analyst reiterated his Buy rating on shares of the iPhone maker, raising his price target to $260 per share.
Separately on Monday, Thomas Weisel analyst Doug Reid also raised his price target on Apple shares by $5 to $250 after weekend checks at the company's retail stores suggested that sales of iPhones and iMacs have been stronger than previously anticipated.
In particular, he said, the iPhone is seeing greater-than-expected success as a holiday gift option. Still, he's figuring more conservative than his colleagues at Broadpoint.AmTech, estimating December quarter unit sales of 8.21 million to 8.89 million units.