Support for OpenGL 3.0 added in beta build of Mac OS X 10.6.3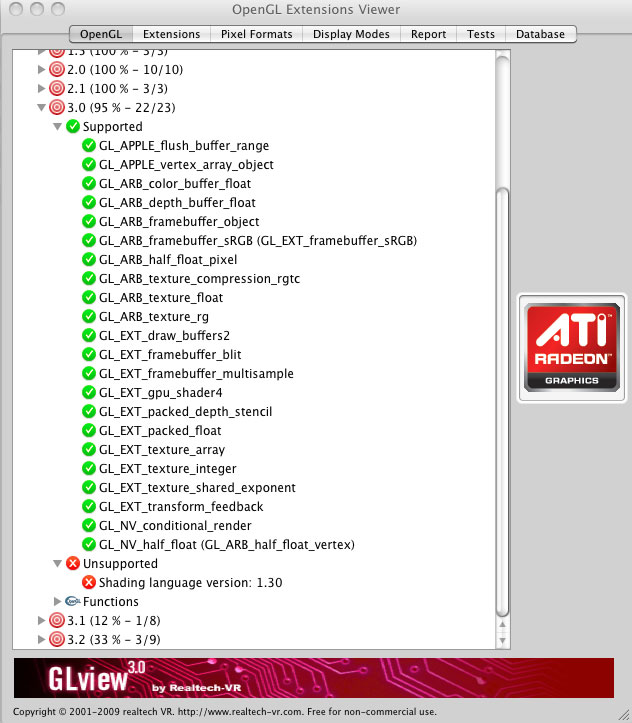 AppleInsider is supported by its audience and may earn commission as an Amazon Associate and affiliate partner on qualifying purchases. These affiliate partnerships do not influence our editorial content.
An early beta of the latest maintenance and security update to Apple's Snow Leopard operating system has added significant support for the OpenGL 3.0 graphical application programming interface.
As noted by HardMac, partial support for OpenGL 3.0 was discovered in the first external build of Mac OS X 10.6.3. The update, which also includes crash fixes and targets over 90 components, was released last week.
Though graphics cards in Mac systems have had support for OpenGL 3.0, the cross-platform API did not previously have native support within Snow Leopard. With the latest build of Mac OS X 10.6, 95 percent of the features of OpenGL 3.0 were found to be supported. Only "Shading language version 1.30" was unsupported. In addition, most functions specific to OpenGL 3.0 are not yet present.
Previous versions of OpenGL — 1.5, 2.0 and 2.1 — all have 100 percent compatibility. Support for OpenGL 3.1 is said to be at 12 percent, while OpenGL 3.2 is at 33 percent.
Apple has reportedly not yet documented anything on potential OpenGL 3.0 support in Mac OS X 10.6.3. Build 10D522, released last week, was a 665.7MB file that included 221 code corrections to 92 distinct system components. Nearly 60 individual pieces of crash-prone code were said to have been addressed, though four known issues remain with the latest beta.
When it launched in August, Snow Leopard came with GPU optimization built in to the operating system. Apple has supported OpenGL for years, and also introduced OpenCL, both of which aim to take on Microsoft's DirectX API.
Support for OpenGL 2.1 was added in 2007 to Mac OS X 10.5 Leopard for its 3D interface. This provided a dramatic increase in OpenGL performance, and also allowed applications to activate hardware acceleration as requested.