Mobile apps projected to earn $6.2B in 2010; Wintek riot captured on film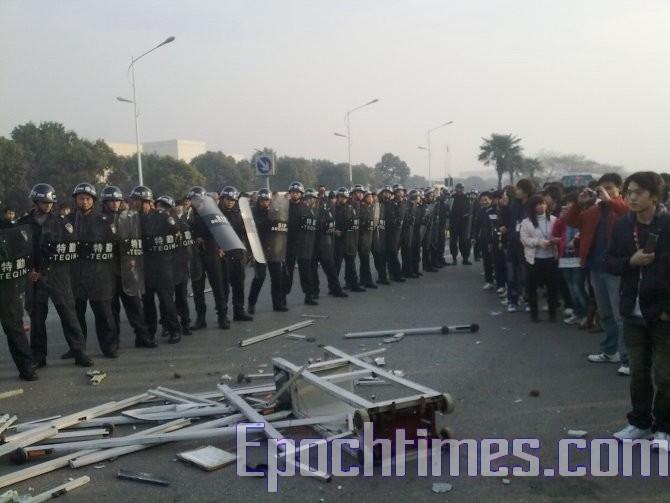 AppleInsider is supported by its audience and may earn commission as an Amazon Associate and affiliate partner on qualifying purchases. These affiliate partnerships do not influence our editorial content.
Application stores on mobile handsets will see more than 4.5 billion downloads in 2010, earning $6.2 billion in revenue, a new study has found; and footage from a violent employee strike at an iPhone part supplier has surfaced.
Gartner: Application stores worth $29.4B by 2013
As Apple has started the 'app store' crazy with smartphones, the market that was just $4.2 billion in revenue in 2009 is expected to grow exponentially in the next few years, research firm Gartner said this week.
Likely to lead the way is Apple, which is well ahead of its competition, with more than 3 billion total downloads in less than 18 months of its existence, and with more than 100,000 individual applications available for download.
The firm believes that there will be 21.6 billion application downloads in 2013, and 87 percent of downloads will be free.
"As smartphones grow in popularity and application stores become the focus for several players in the value chain, more consumers will experiment with application downloads," said Stephanie Baghdassarian, research director at Gartner. "Games remain the No. 1 application, and mobile shopping, social networking, utilities and productivity tools continue to grow and attract increasing amounts of money."
Some reports this week noted that Apple served up 2.5 billion App Store downloads in 2009, which would give the company an incredible 99.4 percent of mobile app sales for the year. Rival firm comScore fired back by saying the numbers simply don't add up.
One analysis in December concluded that 75 percent of App Store offerings are paid, though it did not make the distinction as to what percentage of total downloads were paid. In August, one firm estimated that Apple's annual revenue from the App Store earns it $2.4 billion. If that number and Gartner's $4.2 billion estimate for 2009 are accurate, Apple commands well more than half of the worldwide mobile application revenue.
Wintek strike caught on film
Chinese employees of iPhone part supplier Wintek have been upset over what they feel are unfair wages, in addition to alleged exposure to toxic chemicals that they believe led to the deaths of four co-workers. Last week, workers damaged equipment and vehicles during a demonstration.
The Epoch Times (via Google Translate) said that 300 riot police were present in an attempt to control the crowd, but they didn't have much luck. As the footage shows, rioters were grabbing whatever they could to hurl at police who stood in the distance. The publication also has video footage of the incident.
Apple's parts suppliers and manufacturers in China have come under fire for alleged health and human rights violations before. Last July, an uadit of Apple's partners in mainland china found that 45 of 83 factories that built iPhones and iPods in 2008 weren't paying valid overtime rates for those workers that qualified. In addition, 23 of those factories weren't even paying some of their workers China's minimum wage.