Record 3.1 million Mac sales expected to kickoff 'Year of the Mac'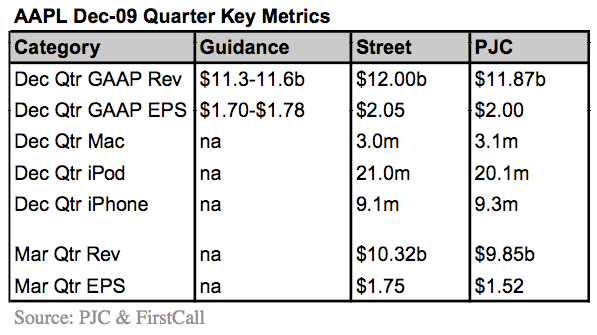 A strong holiday quarter, higher than expected Mac sales, and hype leading up to Apple's expected tablet unveiling next week are all expected to drive the company's stock to new heights, one Wall Street analyst said Monday.
Calling 2010 "The Year of the Mac," Gene Munster, senior research analyst with Piper Jaffray, said domestic Mac retail data from the NPD group for the December quarter shows 26 percent year-over-year growth. Wall Street expects Apple to see about 19 percent growth over the three-month frame.
Mac unit growth in 2009 was consistently above 20 percent. Wall Street still expects Apple to see growth at about 14 percent in the 2010 calendar year, but Munster believes those estimates will rise once Apple reports its first financial quarter of 2010 next Monday.
"Keep in mind, before the economic slowdown began Mac units were up 30-40% (year over year) on a quarterly basis," he wrote in a note to investors Tuesday. "While hype surrounding the expected tablet will be focus of Apple long-term strategy, we believe we will see meaningful near-term upside from the Mac business."
While Munster had previously forecast sales of 2.9 million Macs in the December quarter, Monday he raised that estimate to 3.1 million. If that holds accurate, it would be Apple's best quarter ever. In the previous three-month frame, the Cupertino, Calif., company sold a record 3.05 million Macs.
He also continues to expect Apple to have sold 9.3 million iPhones in the December quarter, a total bolstered by new debuts in important international markets, including China, Canada and the U.K. Wall Street consensus forecasts 9.1 million iPhone sales for the holiday quarter.
On Monday, Apple formally announced its anticipated media event on Jan. 27. It is expected that the company will introduce its long-rumored touchscreen tablet device next week. With buzz around the device remaining high, Munster said all of the attention should move Apple shares higher.
"We believe Apple will show a 10-inch tablet device and possibly a new version of iPhone software," he said. "We continue to believe Apple will ship a tablet by the end of March, and will likely sell about 2M units in the first calendar year of sales. The tablet is not included in our model."
Piper Jaffray has slightly increased its price target for AAPL stock, from $277 to $279. Since the tablet is not in the firm's current models, that total could change depending on the outcome of next week's product announcement.