Apple again delays 27-inch iMac shipment by 3 weeks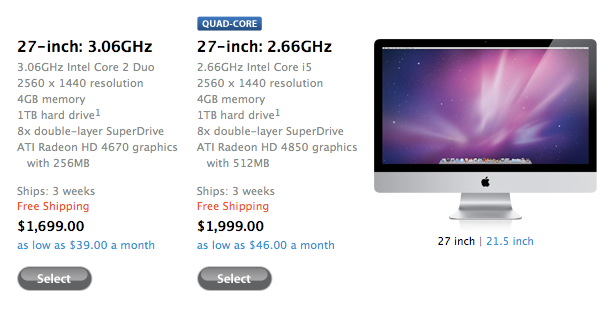 Just when it looked like Apple was putting its 27-inch iMac troubles behind it with a balance in supply and demand, the company has abruptly pushed new direct orders of its big screen desktop machines out by three weeks.
While the 21.5-inch models of the new iMac currently ship within 24 hours, as of Thursday new 27-inch iMacs have a three-week estimated shipping time. Only days ago, the Mac maker had improved it supply of the larger models to shipping times of less than a week.
Apple's sudden delay of the new models comes just one week after its authorized resellers began receiving volume shipments of the big-screen models, allowing them to reflect availability for the first time since their introduction last Fall.
Following numerous users-reported screen flickering issues with the 27-inch model, Apple in December notified resellers that new orders would be pushed out by about two weeks. At the same time, the Mac maker apologized for the situation, but did not directly address concerns that hardware issues were to blame for the matter.
Released last October, the newly redesigned iMacs include an edge-to-edge glass design in a seamless all-aluminum enclosure. The new iMacs were an immediate hit with consumers, who made them the best-selling desktop machines in the U.S that same quarter.
But for many users, the update wasn't successful in fixing the problem, as posts on the Apple discussion forums have continued to grow (1, 2). The same issues have not been reported with the 21.5-inch models.
Despite Apple's direct-order delays, all of the reseller's tracked by AppleInsider's Mac Price Guide (below) are currently showing availability of most 27-inch iMacs, with a few exceptions: