Apple tablet seen nearing $3 billion business in first year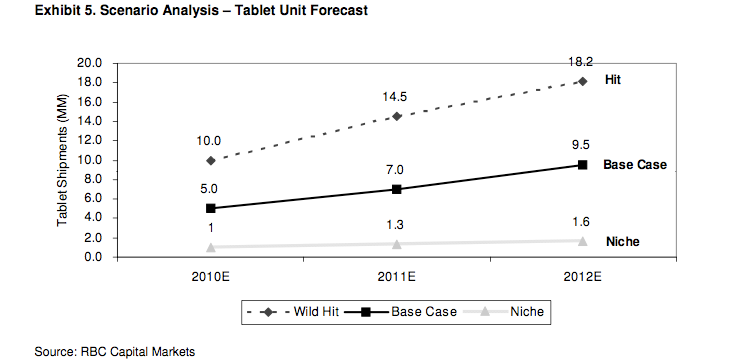 Selling an estimated 5 million units in its first year as a "base case" scenario, Apple's tablet would earn the company $2.8 billion in additional revenue and solidify it as more than a niche product, a prominent investment baking firm said Friday.
Mike Abramsky with RBC Capital Markets, the corporate and investment banking division of the Royal Bank of Canada, has projected a $600 average selling price for Apple's forthcoming tablet. That could add 30 cents of earnings per share to the company's stock, resulting in a $5- to $10-per-share valuation upside. Another $2.8 billion in revenue would be a 6 percent increase for Apple.
Those numbers assume 30 percent gross margin for the hardware, and 3 percent Mac and iPod touch cannibalization. That's what Abramsky believes is the most likely outcome, as the midpoint in a three-case scenario.
On the low end, as a "niche" product, he said the tablet would have an $800 average selling price and sell 1 million units. That would earn Apple $777 million, and amount to 12 cents of incremental GAAP EPS.
On the other hand, priced at $500, the product would be a "hit," selling 10 million units. With 29 percent gross margin, it would mean an additional $4.2 billion in revenue for Apple, amounting to 42 cents EPS.
"Anticipation for an Apple Tablet (expected Jan 27) resembles that of Moses bringing down the 10 Commandments," Abramsky wrote. "Despite high expectations, we believe Apple plans to redefine portable computing — as the Mac redefined the PC — by 'creating' desire for a new converged portable device with innovative touch/gestures — with iTunes content. A 'Hit' could provide a possible new growth engine for Apple."
He went on to say that the traditional tablet market size of a million per year is likely irrelevant. Instead, the prize for Apple's device should be seen as the 150 million home PCs expected to be sold this year. That would place the addressable market, Abramsky said, at 35 million.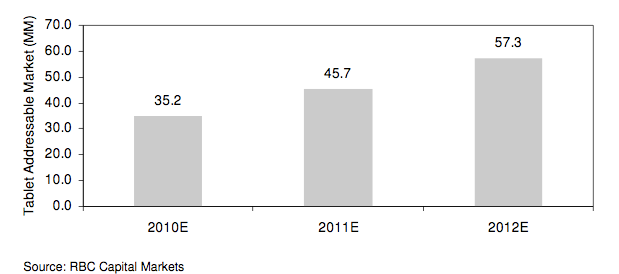 RBC has predicted a device with a price between $500 and $700 unsubsidized, while it would cost between $200 and $300 subsidized by a wireless carrier. Abramsky said he believes Apple is likely to release two versions of the hardware: one with Wi-Fi only, and another with both 3G and Wi-Fi.
For pricing, Abramsky cited a recent survey by ChangeWave that found most consumers would be interested in buying a tablet priced between $500 and $799. If the device is priced closer to $1,000, he said subsidies may be needed for mass-market acceptance.
Priced appropriately, the tablet would also be Apple's opportunity to cut into the booming netbook market.
"Although the tablet would not offer the breadth of features or raw performance of traditional laptops, it would deliver an optimal experience for buyers looking for user-friendly, media-centric computing at entry-level price points," Abramsky said. "The tablet may cannibalize some Mac and iPod touch buyers (est. 2-5% in scenario analysis), but the lack of Mac OS X compatibility (and emulated Windows) reduces the appeal of the tablet as a Mac replacement for Apple's traditional premium Mac buyers."
Earlier this week, The Wall Street Journal reported that Apple sees its tablet as a device that will be shared by multiple family members. Previously, analysts with investment firm Piper Jaffray had forecast an average tablet selling price of between $600 and $800 — higher than RBC's forecast. But this week, an analyst told AppleInsider that price point "may be a little low."
Apple is widely expected to unveil the tablet at a media event scheduled for Jan. 27 at 10 a.m. Pacific time, 1 p.m. Eastern. The event will be held at the Yerba Buena Center for the Arts in San Francisco. Apple sent out invitations this week, inviting select members of the press to "Come see our latest creation."