Analytics firm spots 50 suspected Apple tablets running iPhone OS 3.2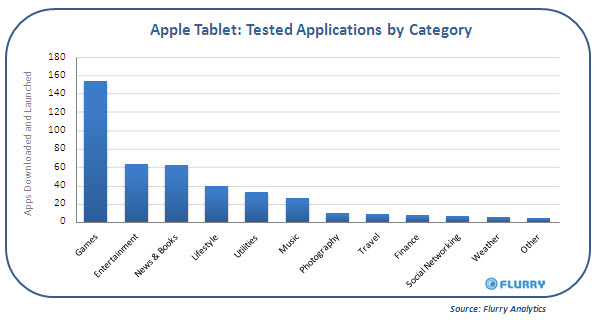 About 50 devices matching the characteristics of Apple's forthcoming tablet have been tracked from the company's Cupertino, Calif., campus, with the devices reportedly being used to test iPhone applications.
Mobile analytics firm Furry released new statistics this week on what it claims are approximately 50 devices that were "reliably" placed on Apple's campus. The company has alleged that the devices are pre-release tablets in testing, and that testing increased dramatically in January. Such devices were first spotted in October of 2009.
Flurry found that the unknown hardware was running iPhone OS 3.2, an unreleased version of Apple's mobile operating system. If the tracking proves accurate, it could mean that rumors of a tablet running iPhone OS 4.0 could be off the mark.
Peter Farago, VP of of Marketing with the firm, noted that Flurry believes the devices running iPhone OS 3.2 are tablets because the hardware, when asked via software, did not identify itself as an iPhone. He also said that some devices testing iPhone OS 4.0 have been spotted — but they leave the Cupertino campus, while those running iPhone OS 3.2 do not.
In addition, Farago said the applications tested on the new device fell in line with what the tablet is expected to feature, with a strong focus on reading and news. Further details, including what specific applications were accessed, could not be share due to the company's terms of service.
"If you were able to see the data we see, at the level of granularity," Farago said, "it would be clear to you as well."
Flurry tracked which applications were downloaded and launched from the new, unseen hardware. Of more than 200 applications tested, the vast majority were games, the firm found.
"Historically, tablet devices have been considered substitutes for anything where workers use clipboards, note pads or day runners," the report said. "In more industrial settings, they could be used for inventory management, taking purchase orders or data entry. However, there was a surprising dearth of applications that support these use cases. Instead, the largest category was games. "
Following that, the most utilized categories were entertainment, news & books, lifestyle, utilities, music and photography. The firm noted that there was a strong trend toward news, books and media consumption.
For months, rumors of Apple's intent to have the tablet focus partially on e-books and news have persisted. Last week alone, multiple reports suggested the hardware maker was in negotiations with book publisher HarperCollins, educational publisher McGraw-Hill, trade book publisher Hachette Book Group, and potentially six of the largest trade publishers in the U.S.