Apple granted patent for touchscreen proximity sensor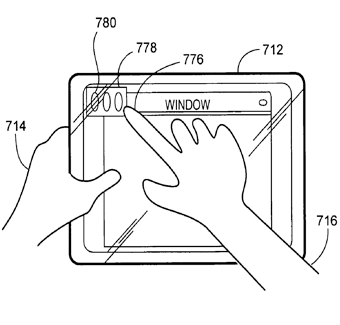 AppleInsider may earn an affiliate commission on purchases made through links on our site.
As Apple is expected to introduce its long-awaited tablet today, the U.S. Patent & Trademark Office granted the hardware maker ownership for inventing a touchscreen with a built-in proximity sensor.
Several high-profile Apple employees are credited with the patent, including designer Jonathan Ive, engineer Steve Hotelling, and the "father of the iPod," Tony Fadell, who left Apple in 2008. Originally filed for on Sept. 30, 2005, the patent — which shows a large, tablet-like touchscreen device — was finally granted by the USPTO Tuesday.
The invention describes a touchscreen that can sense objects, like fingers, in close proximity. Fingers could be sensed when they are close to the touchscreen, but not actually touching it. The portable device could also take certain actions when it detects an object.
Such technology could be used in a variety of applications, from allowing full control without touching the screen using "proximity gestures," or simply waking a device from "sleep mode" when someone is near it.
The described proximity sensor could detect location, direction, speed and orientation of a finger relative to its surface. It could also dynamically change the user interface to allow input options for users when a finger is detected in close proximity.
"(The system)... may allow the display... to keep GUI controls and tools hidden until a user makes a motion to use the touch screen... or other input device," the patent reads. "The GUI controls and tools that pop up when a finger is detected may be standard set of tools or they may be based on other factors including location of the finger and/or the application currently running in the computing device."
"For example, in a music application, an onscreen control box that includes menu, play/pause, seek, and the like may be presented when a user hovers their finger above the user interface (especially the input portion of the user interface)," it continues. "Alternatively, an onscreen scroll wheel may be presented so that a user can scroll through a list of songs. Once the GUI control element is presented, the user may make selections associated therewith by using one of the input devices provide by the computing device (e.g. touch screen) or by performing a proximity gesture."
The system could address the problem of fingers getting in the way of the display on a touchscreen device. For example, if a series of selectable options were presented, they could be enlarged when a finger approaches them, making them easier to read as a finger or hand blocks part of the selection.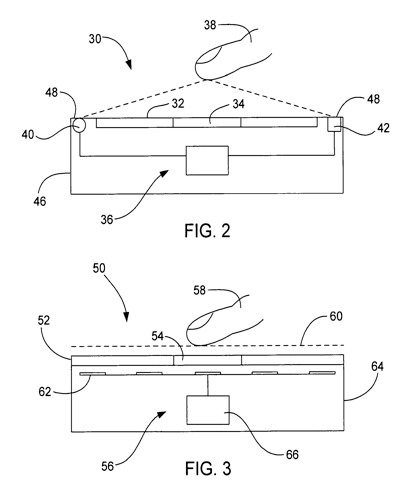 Apple's proximity sensing touchscreen patent was one of 13 granted by the USPTO this week. The others deal with a variety of technologies, including bandwidth, streaming multimedia, and color management.