iPhone developer Web site unavailable prior to Apple event [u]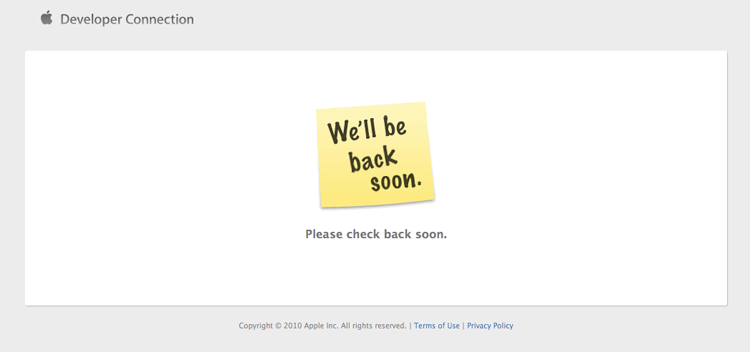 AppleInsider may earn an affiliate commission on purchases made through links on our site.
Providing even more evidence that an updated iPhone OS could be revealed at Apple's event later today, the company has taken its iPhone Dev Center Web site offline [Update: Back online].
The main iPhone Dev Center page of the Apple Developer Connection was unavailable as of Wednesday morning, preventing developers from logging in with their Apple ID and viewing their App Store software. Those who attempted to visit developer.apple.com/iphone/ were greeted with Apple's famous "We'll be back soon" yellow sticky note.
However, Apple's main developer Web page, at developer.apple.com remained accessible. In addition, as of 9:45 a.m., the Apple online store remains online. Update: By 10:30, the iPhone developer Web site was available once again.
On Tuesday, Apple mistakenly updated its iPhone developer agreement with a placeholder referencing Wednesday's new product unveiling. The fact that changes would need to be made to the iPhone developer agreement could hint that a new version of the iPhone OS will be unveiled by Apple today. The placeholder read: "Need to update this for the 27th launch."
In addition, McGraw-Hill CEO Terry McGraw said Tuesday that Apple's tablet would run on the iPhone OS mobile operating system, and that the new device would run all existing iPhone and iPod touch App Store applications.
If true, what version of the iPhone OS the tablet could be running remains uncertain. Rumors of a new iPhone OS 4.0 being unveiled today have persisted all of January, but earlier this week, a mobile analytics firm alleged it discovered 50 suspected Apple tablets in online logs running an unreleased iPhone OS 3.2.