AT&T 3G network speed improves 84% in performance test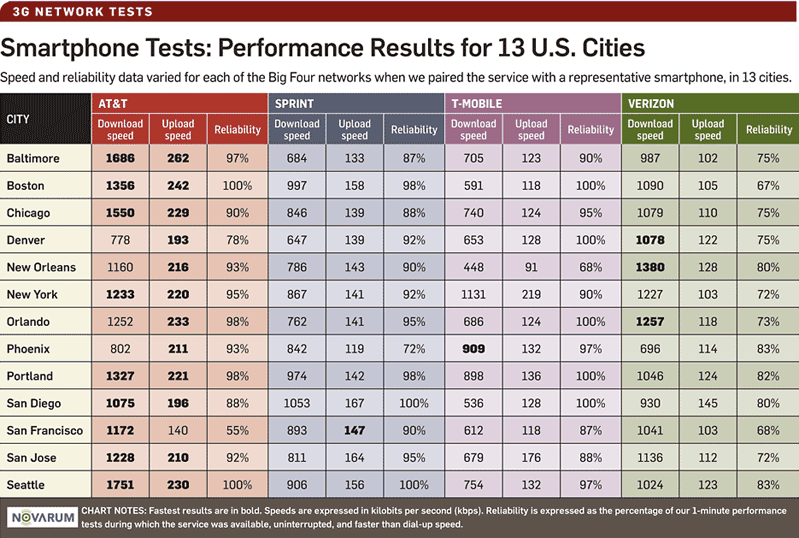 AppleInsider is supported by its audience and may earn commission as an Amazon Associate and affiliate partner on qualifying purchases. These affiliate partnerships do not influence our editorial content.
A new test of the four major U.S. 3G networks found that AT&T has undergone a "drastic makeover" in the last eight months, with download speeds that blow away competitors Verizon, T-Mobile and Sprint.
The results revealed this week by PCWorld found that AT&T's speed and reliability both saw significant improvements over last spring, when the first test was conducted. AT&T had an average download speed of 1,410 kbps and upload of 773 kbps, well ahead of all other competitors. Typical metropolitan problem areas also saw significant improvements, with download speeds in New York City three times faster than last spring. San Francisco, too, saw a 40 percent improvement on the AT&T network.
In all, AT&T download speeds were on average 67 percent faster than competitors Sprint, T-Mobile and Verizon.
Reliability was also strong, measured at 94 percent — placing it in front of the 92 percent reliability found with Verizon. AT&T's total was a dramatic increase from last spring, when the network was found to be reliable 68 percent of the time.
AT&T also has a strong pairing with the iPhone, with which it is the exclusive provider. Together, the two had an average 1,259 kbps download speed and 215 kbps upload speed with 91 percent average reliability. Using the Droid on the Verizon network had only 76 percent reliability, with 1,075 kbps download and 116 kbps upload.
The test was conducted in 13 cities across the country: Baltimore, Boston, Chicago, Denver, New Orleans, New York City, Orlando, Phoenix, Portland, San Diego, San Francisco, San Jose and Seattle. It was carried out in December 2009 and January 2010 with more than 51,000 separate tests covering 850 square miles of wireless cell coverage. AT&T had the fastest download speed in 9 of the 13 test cities, and the fastest upload speed in 12 of 13.
"Our most recent tests showed that the connection speeds delivered by AT&T's network — both downloads and uploads — increased considerably in every one of our test cities, compared with the speeds it registered in identical tests we conducted last spring," the report said.
"In Baltimore, New York City, New Orleans, Portland, and Seattle, AT&€™s average download speeds in our tests more than doubled. The network's 13-city average download speed was 1.4 mbps; that's as fast as many home broadband connections. In our tests, none of AT&T's three biggest competitors registered average download speeds of better than 1 mbps."
Last summer following the launch of the iPhone 3GS, the iPhone has placed a significant strain on AT&T's network, particularly in large cities such as New York and San Francisco. The issue was so serious that the company admitted its shortcomings and vowed to make improvements and do better. The company made significant investments to improve its reception in major metropolitan areas, and the PCWorld study seems to imply those investments paid off.
Meanwhile Verizon's average download speed in the 13 test cities was 877 kbps, down 8 percent from the 951 kbps the study found last spring.
"Verizon had the best-performing network in our tests last spring, with the fastest overall speeds and strong network reliability," the report said. "But our recent test results suggest that Verizon may not be keeping up with demand in some markets."
But it noted that Verizon's CDMA technology still gives it the most broad 3G coverage in the U.S., as has been highlighted in the company's "There's a map for that" advertising campaign.