'Outsider' Avon chief is new co-lead of Apple Board of Directors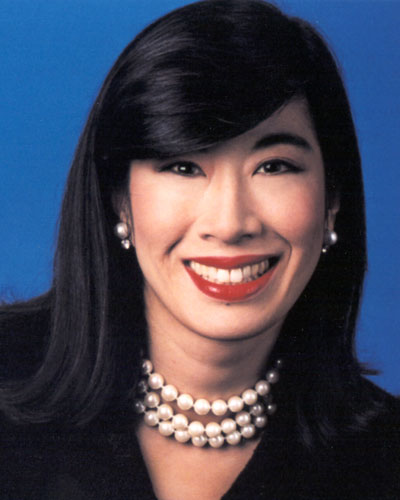 AppleInsider is supported by its audience and may earn commission as an Amazon Associate and affiliate partner on qualifying purchases. These affiliate partnerships do not influence our editorial content.
Andrea Jung, chief executive of Avon Products and the only woman on Apple's seven-person board of directors, will serve as the co-lead director at Thursday's shareholder meeting.
Jung was quietly named co-lead director in December, when Apple listed her new designation on page 8 of its December proxy statement. The change was highlighted Wednesday by Bloomberg, which said that the nomination of a company "outsider" will quell complaints from some that Apple co-founder Steve Jobs had "too much sway over a group of hand-picked directors."
Jung replaces Bill Campbell, who was a former Apple executive and is one of the company's longest-serving board members. Apple would not say why Campbell would no longer serve as its board's co-lead director.
"(Jung) is a strong CEO and marketer and her insights and experience have been a great addition to Apple's board," company spokesman Steve Dowling told Bloomberg.
The 51-year-old was elected to Apple's board in 2008. She also serves on the board of directors for the General Electric Company, and is also a member of the New York Presbyterian Hospital Board of Trustees and the Catalyst Board of Directors. She has served as head of Avon, the women's beauty products company, since 1999.
In addition to Jobs and Jung, the other members of the board are former U.S. Vice President Al Gore, J. Crew Group CEO Millard Drexler, Genentech Chairman Art Levinson, Intuit Corp. Chairman Bill Campbell and Harwinton Capital CEO Jerry York. Google CEO Eric Schmidt was also a member until last year.
Both Google and Apple were the subjects of a Federal Trade Commmission investigation for potential antitrust ties. Schmidt chose to resign because Google's Android mobile operating system and forthcoming Chrome OS netbook operating system look to compete with Apple's iPhone and Mac OS X, respectively. And Levinson, who also served on both companies' boards resigned from Google, severing the last tie between the two.