Apple begins accepting iPad apps on the App Store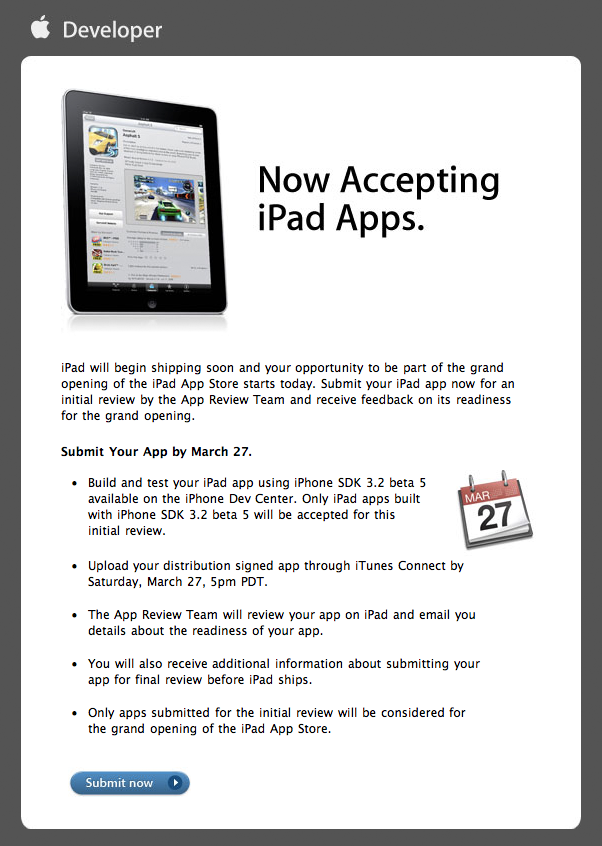 Apple on Friday afternoon opened the floodgates for developers authoring software for its forthcoming iPad, allowing them to begin submitting the applications to its App Store for approval.
"iPad will begin shipping soon and your opportunity to be part of the grand opening of the iPad App Store starts today," the company wrote in an email to registered iPhone developers. "Submit your iPad app now for an initial review by the App Review Team and receive feedback on its readiness for the grand opening."
In order to assure that they are part of the grand opening, Apple requested that developers submit their applications by March 27 and assure that they've taken the following steps.
Build and test your iPad app using iPhone SDK 3.2 beta 5 available on the iPhone Dev Center. Only iPad apps built with iPhone SDK 3.2 beta 5 will be accepted for this initial review.
Upload your distribution signed app through iTunes Connect by Saturday, March 27, 5pm PDT.
The App Review Team will review your app on iPad and email you details about the readiness of your app.
You will also receive additional information about submitting your app for final review before iPad ships.
Only apps submitted for the initial review will be considered for the grand opening of the iPad App Store.
The iPad goes on sale April 3rd in the United States.