Valleywag details iPhone feud between Steve Jobs and Google CEO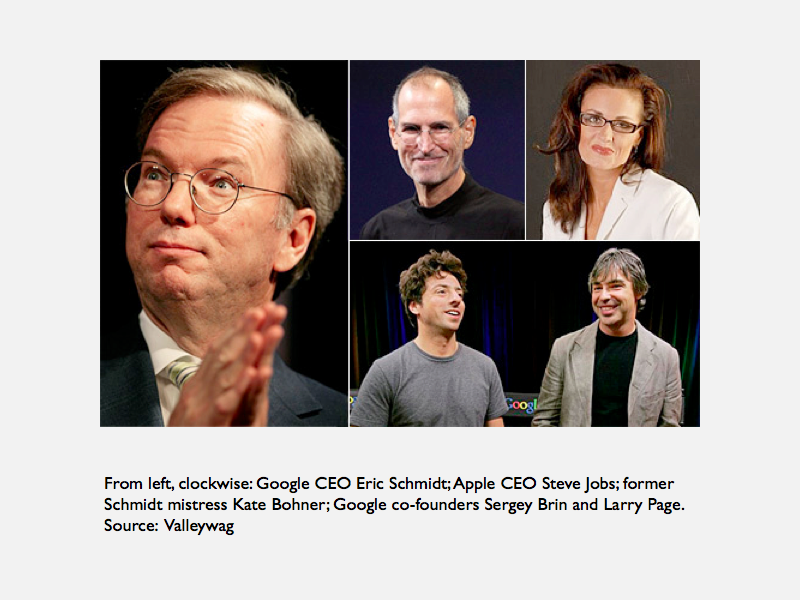 A Silicon Valley rumor site has detailed the history of growing tensions related to the iPhone between Apple chief executive Steve Jobs and Google CEO Eric Schmidt.
Valleywag, a Gawker property infamous for digging up dirt on tech celebrities, published a report describing Schmidt as a friendless eccentric who burned his bridges with Apple while working on Android at Google.
Schmidt served on Apple's board of directors and helped Jobs unveil the iPhone in 2007. But during that same year, his own company began work on creating a smartphone in partnership with HTC, something Valleyway portrayed as betrayal to Apple and Jobs.
According to a source attributed to an acquaintance of Schmidt's then mistress Kate Bohner, Schmidt "visibly lost his composure" when he received an angry phone call from Jobs, furious about Google's duplicity in planning a competing platform while acting out a role as a trusted partner on the iPhone.
The call occurred during Schmidt's attendance at the Burning Man festival, which Schmidt was attending with his mistress; his disinterest in camping lead him to drive two and a half hours back and forth to Reno Nevada to avoid having to sleep outside the comfort of a hotel.
That angry phone call from Jobs in 2007 was apparently touched off by reports in the Wall Street Journal describing Google's efforts to create its own rival Android platform, which included investing "hundreds of millions of dollars developing prototype mobile phones, wooing carriers and investing in other mobile systems," along with its partnership with HTC.
Schmidt was reportedly deeply shaken by his falling out with Jobs. "'Steve was very, very upset,' Schmidt is said to have later told his companion Bohner," Valleywag reported. "'My God, he was so angry.'"
Google's CEO had long worked to gain Jobs approval, and recently called Jobs "the best CEO in the world today," in a New York Times article detailing the growing tensions between Apple and Google between the 2007 unveiling of Google's Android partnership with HTC and Apple's eventual patent suit against that company.
Schmidt "never did manage to finagle a long-sought dinner invitation to Jobs' home, we're told," wrote Valleywag, later adding, "Schmidt's inability to get the sort of attention he sought [from Jobs] 'broke' him, said our source."
The Valleywag piece also portrayed Schmidt's relationships with his former mistress and with Google co-founders Sergey Brin and Larry Page to be similarly unsatisfying, saying that the Google boss "aches for true friends. 'I don't think he had any,' our source said.
"It's a feeling of empty loneliness familiar to many of us who are enmeshed in social networks and broadband grids, blogs and microblogs, emails and IMs, sending so many messages and making so few connections," the article concluded.