Apple launching iPad with explicit content in App Store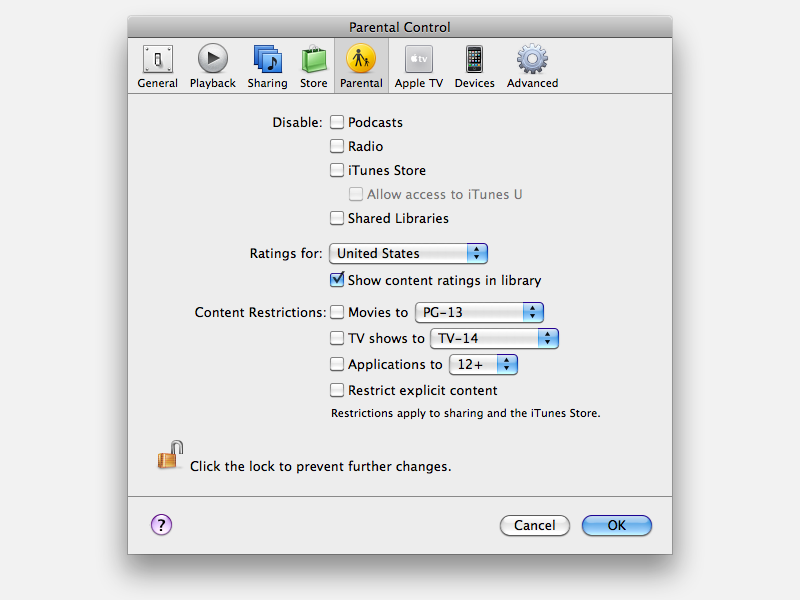 After nearly two years of criticism of its censorship of adult content in the iPhone App Store, Apple appears to be gearing up to sell explicit content for both the iPad and the iPhone and iPod touch.
Links to new "explicit software" categories in iTunes indicate that Apple plans to finally deliver adult content for both the iPad and for existing iPhone OS devices, segregated from other content with parental controls in the same way that iTunes has long sold music with explicit lyrics.
Over the last year, Apple refined a ratings system for App Store software titles that enables users to restrict the level of software that can be downloaded through their copy of iTunes.
The system uses the same parental controls preferences (below) that can restrict movies to the MPAA-designated "G, PG, PG-13, and R" ratings, or TV shows to the broadcaster-initiated "TV-Y, TV-Y7, TV-G, TV-PG, TV-14 and TV-MA" classifications.
Currently, Apple has its own rating system for App Store software titles, which sets thresholds at "4+, 9+, 12+, and 17+." However, the company has prohibited the sale of explicit software that includes pornography or other adult subject matter, at times removing titles it deemed obscene.
This policy has attracted widespread criticism due to the fact that adult content is freely available over the web in the iPhone's Mobile Safari browser. Any App Store titles that incorporate an embedded web browser, including Facebook, are listed as 17+ for this reason, and can potentially display content that is more explicit than Apple allows in native App Store titles.
Parental controls in iTunes also allow users to block access to the iPhone's web browser and the ability to open the iTunes Store to download any apps at all, in addition to the content ratings settings. But iTunes also has a separate option to block "explicit content," which until now has apparently been limited to restricting access to music with explicit song lyrics.
By enabling developers to publish "explicit" software titles in the App Store, Apple will provide the potential for a new, unanticipated killer app for iPad: digital interactive magazines, comics, and games that present adult subject matter to audiences that want them while also enabling parents to prevent access to such content within iTunes' preferences.
Access to adult content has long been credited with the success and popularity of technology platforms. It is widely held that JVC's VHS videotape format won out over Sony's Betamax due to the fact that JVC did not attempt to block distribution of adult content in the early 80s. The explosion in popularity of the consumer web has also been credited to its ability to deliver unfettered access to adult content.
At the same time, Apple is under intense pressure from activist groups seeking to ban all access to adult material, including one group that addressed Steve Jobs at last year's shareholder meeting in a diatribe that implored Apple to not distribute CBS TV sitcoms in iTunes (which were originally broadcast over the air) because they contained mildly suggestive scenes.