Apple seeks LTE expert for 4G-capable iPhone, hires for NC data center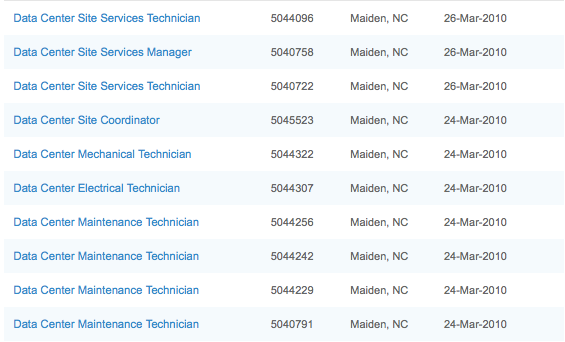 Job openings at Apple show that the company seeks to hire a cellular technology software manager familiar with LTE 4G high-speed, next-generation mobile broadband, as well as employees for its forthcoming massive data center in Maiden, N.C.
Apple looking for 4G expert
While Apple has not yet made any announcements regarding LTE, it would be the next logical step for the iPhone maker, given its exclusive arrangement with AT&T as the wireless provider in the U.S. AT&T has partnered with Alcatel-Lucent and Ericsson for a 2011 commercial deployment of the company's Long Term Evolution network, commonly known as 4G.
Competitor Verizon also has plans to adopt LTE in the future. The transition is expected to cost U.S. carriers $1.78 billion each in the first year alone.
Apple is expected to announce its next-generation iPhone at this year's annual Worldwide Developers Conference in San Francisco. The conference is rumored to begin on June 28.
Whether or not the next-generation iPhone hardware supports LTE 4G, sources have told AppleInsider that the iPhone OS 4.0 software will deliver the long-awaited multitasking support that users have requested. The software is expected to arrive with the new iPhone this summer.
Last year, AT&T began its rollout of HSPA 7.2 in six U.S. cities. The new network speeds will allow iPhone 3GS users to take full advantage of their device, with download speeds of up to 7.2Mbps.
North Carolina data center jobs posted
This week, Apple posted 10 new job listings for its data center in Maiden, N.C. The company seeks to hire site managers, coordinators, and service, mechanical and electric technicians. The listings seek people who have worked in large data centers with more than a thousand servers.
The listings do not, however, offer insight on the exact purpose of Apple's sprawling data center in Maiden. In 2009, Apple selected the location to build its $1 billion server farm project.
Some have speculated that the 500,000 square foot center could be for cloud computing. One analyst has predicted that Apple will offer browser-based access to iTunes content from anywhere, on any connected device.