Apple's Steve Jobs named world's most valuable CEO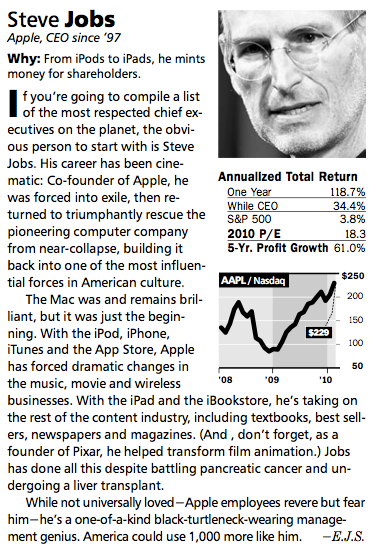 A new list of the 30 "most respected" chief executives across the world has named Apple co-founder Steve Jobs the most valuable of all, noting that "America could use 1,000 more like him."
This week Barron's released its annual list of the best CEOs in the world. Jobs returned to the list from last year, joining Jeffrey Bezos of Amazon.com, Warren Buffett of Berkshire Hathaway and Mark Hurd of Hewlett-Packard.
"Probably the world's most valuable CEO is Steve Jobs of Apple, as shown by stock dips on news of his medical problems," the report said. "Apple recently hit a record, with a market value topping $200 billion, a reflection of the Street's confidence that a healthy Jobs (at least from what we can tell) continues to keep Apple ahead of the game. Jobs likely accounts for $25 billion or more of Apple's market value."
It said any list of the most respected CEOs must start with Jobs, whose "cinematic" return to the company from which he founded saw him "triumphantly rescue" it from the brink of death.
"The Mac was and remains brilliant, but it was just the beginning," the report said. "With the iPod, iPhone, iTunes and the App Store, Apple has forced dramatic changes in the music, movie and wireless businesses. With the iPad and the iBookstore, he's taking on the rest of the content industry, including textbooks, bestsellers and newspapers."
In January 2009, Jobs took a leave of absence from Apple due to health-related issues, leaving Chief Operating Officer Tim Cook at the helm. Jobs eventually returned to work in June after receiving a liver transplant.
While at the helm, Cook oversaw the launch of several key products, most notably the iPhone 3GS. Earlier this month, he was awarded $22 million for his performance.
Jobs is frequently lauded for his performance as the CEO of Apple. In December, the Harvard Business Review named him the world's best-performing CEO for increasing his company's market cap a whopping $150 billion in the last 12 years.
In November, Jobs was given the title "CEO of the Decade" by Fortune. The magazine lauded him for making Apple a groundbreaking technology leader and the most valuable company in Silicon Valley. He was also a finalist for Time magazine's 2009 "Person of the Year."